While there are easy ways you can see a server's member count, you might also be interested in knowing more than just that. You might want to know how many people are online, offline, how many server members are listed in a particular role, and many more. Manually counting them is doable, but of course, it isn't really a feasible way to tally your server's member count.
Fortunately, there are a number of ways you can accomplish that. Interested? Then read on.
Server Member Count in the Description and Invite Link
Before joining a Discord server, you might have noticed its member count can be found under the description.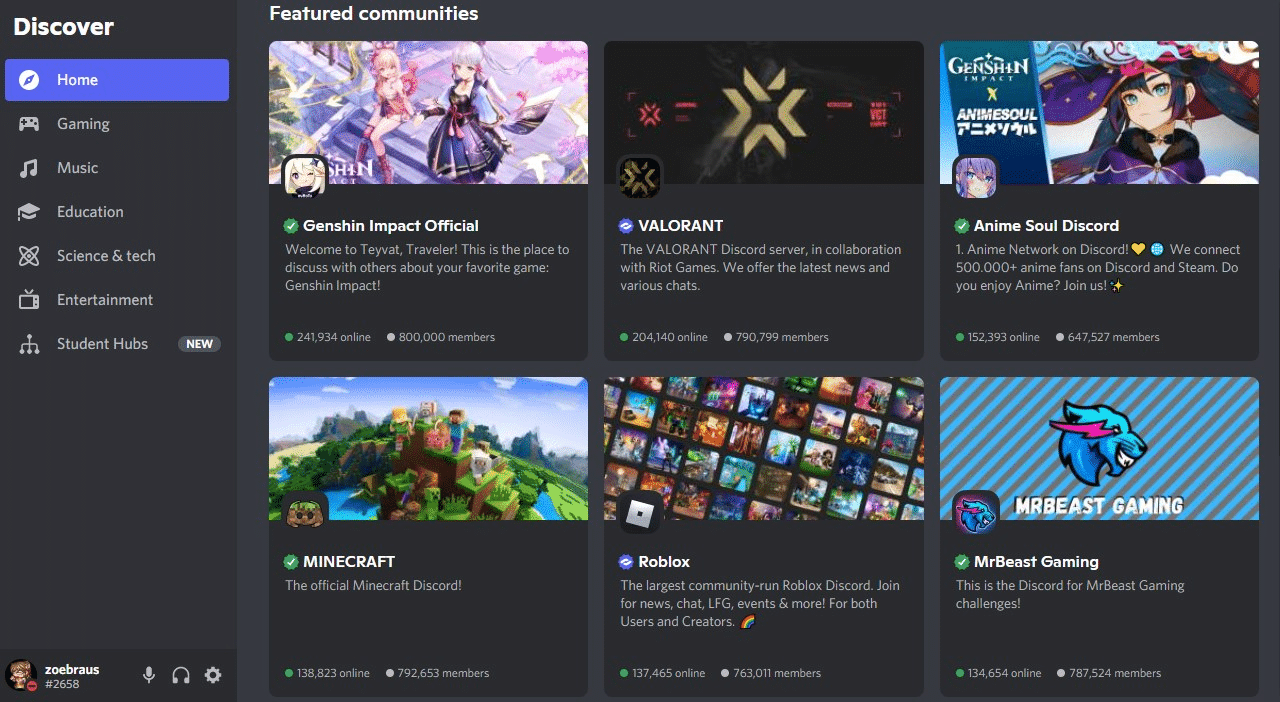 You can see here how many members are online as well as the total current server member count. However, you can only see this number upon joining in or via searching it on the Discover page. Additionally, this mostly only works for public servers, so if you joined a private server and want to know its exact number, you probably won't see it through this method.
You can also see a server's member count in the invite link. However, once the link expires, you won't be able to see that information anymore in the messages.
You can easily know how many members a server has by looking at the description or invite link before joining. Aside from those, however, you can also find the server member count as well as more specific statistics through other means, which I will discuss below.
How to Show Your Member Count on Discord
There are mainly four ways on how to add member count on Discord. You can see the member count of a particular server by doing any of the following methods. I'll discuss them briefly one by one.
At the Right Side of the Screen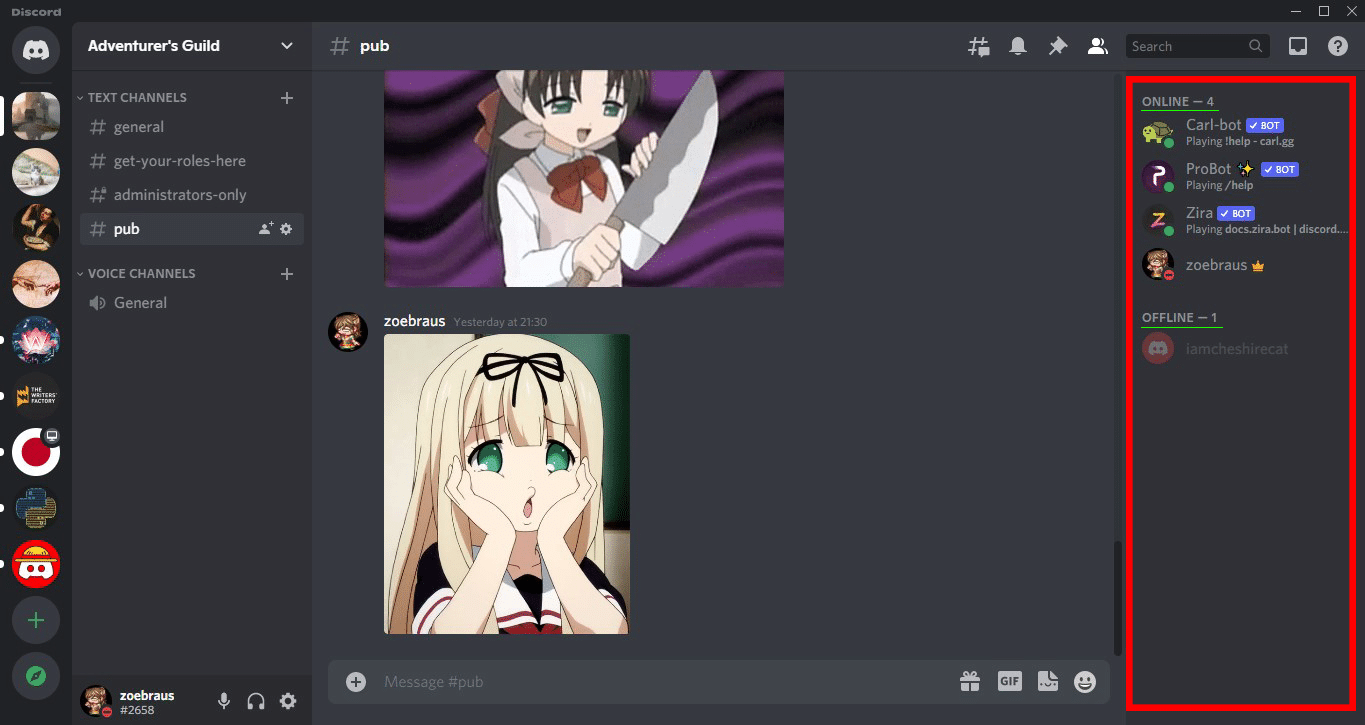 The easiest way to know the member count of a Discord server is just by looking at the right side of the screen. Here, you can see the list of members, offline and online, as well as their roles. Just select any server, and you can have a look at the numbers pretty quickly.
This method has a downside, though. When the server gets big, it will be more difficult to gauge the exact number of members in the server. Furthermore, there's no way you can see the total member count in this area right off the bat. You will see members grouped into whoever is online at the moment, who the moderators are, admins, staff, helpers, and other roles.
You can count or add them up, but a server with a large population of members will make that a difficult task and in the end, you might not get the accurate numbers.
On Server Settings Page
Another way to see the member count of a server is by accessing Server Settings. Heads up, though: you can only access this page if you are the owner of the server or if the owner gave you permission. If you're working as a mod or admin of the server, you might probably have access to this. If you don't, you can ask the owner to give you permission or apply as an admin.
To find out the member count on the Server Settings, do the following:
Step 1

Open Discord on your desktop, and select a server.

Step 2

Click the server's name.

Step 3

On the drop-down menu, select Server Settings.

Step 4

Under User Management, select Members.
And there you go! You can now see the total member count highlighted in red.
On the downside, though, this will also include the bots and inactive members. If you want to find out the actual number of active and online members, for example, you may want to try other options.
Using Discord App on a Mobile Device
Do you want to know a server's member count quickly? You can do so using your mobile device. Whether you're using iPhone or Android, viewing the member count is a lot easier on the Discord mobile app. You also don't need to be the owner or admin of a server to know its exact numbers.
All you have to do is open the Discord app on your mobile device.
STEP 1

Select any server, then tap the three horizontal lines icon on the top right corner of the screen.

STEP 2

Tap the three dots beside the server name.

STEP 3

And there you go! You can now see the member count feature. You can both view the total number of members and how many are currently online.
With the Use of Discord Bots
Some Discord bots have member count functionality. Aside from helping you to find out the exact number of your server's members, it can also do more than that.
You have to invite the bot to your server to access this functionality. Of course, you have to be either the server owner or have permission from the owner to invite bots. Usually, this ability is given to server members with the highest roles, such as admins and mods.
You can find bots to invite by Googling them. You can also use sites such as top.gg. Sites like this are great places to find bots you can add to your Discord server.
Some of the best Discord bots that have a server member count function are:
Each of these bots varies in functionality and can be activated using a unique command, except for MemberCounter. This bot automatically shows the server member count on its guild nickname.
For example, if there are 10 members on the server, MemberCounter's guild nickname will be ten. The number includes both users and bots. Also, you can usually find MemberCounter listed at the top of the list. Its nickname changes according to the number of members on your server.
Using the other bots in this list is fairly easy, too, as you only have to type in the command on any channel and it will show you the numbers you're looking for. Of course, the command you should use depends on the stats you want to see. Using these bots, you can also find out how many members are assigned in a specific role and other stats you can't easily find out by other means.
Frequently Asked Questions
How Can You See How Many Members Your Discord Server Has?
There are a number of ways you can see how many members a Discord server has. You can find it under the description of the server upon searching it on the Discover page, and you can also see it in the invite link. Other things you can do to see the member count is by looking at the right side where you can see the members, accessing the server settings, and inviting a bot to your server.
How Do I Add Stats to My Discord Server?
You can add stats or member counters to your Discord server using bots such as MemberCounter, StatBot, ServerStats, and MemberCount.
If you want to add a member counter as a voice channel where other people can see it, you can use ServerStats. For example, if you want to have a feature in your Discord server that only counts users and not bots, you can do the following:
Step 1

Launch Discord, and go to your server. Select any channel.

Step 2

Type in s/counter create.

Step 3

ServerStats will ask you "Which type of counter do you want to create (pick one)?" Choose from the list of options. For this guide, we'll reply with Members.

Step 4

ServerStats will ask you "Which type of channel do you want to use for the counter (pick one)?" Choose the type of channel. You can use text or voice channels, but we'll use the latter because it looks neater.

After you've done all these steps, the member counter of your Discord server has now been created as a voice channel. You can see the total number of users, excluding the bots.
How Do I Make a Discord Members List?
You can get the list of members on a server from the Server Settings page, and you can also view them on the right side of the screen. If you want to compile it into a document or spreadsheet, however, you will need to manually copy-paste the name and details.
There are also Discord bots that can help you generate a members list, such as MemberCounter. However, there might be a limit to how many members can be included in the list. Therefore, the generated list may not be complete.