Discord is home to a wide variety of internet folks: gamers, students, programmers, music-lovers, YouTuber fans, and a lot more. Even when the platform started off as something exclusively for gamers, Discord eventually became the hub of people who are into other hobbies and interests, such as anime and bands. Some just want to find people with whom they can share their interests; while others are there to make new friends. Anime servers are no exception to this.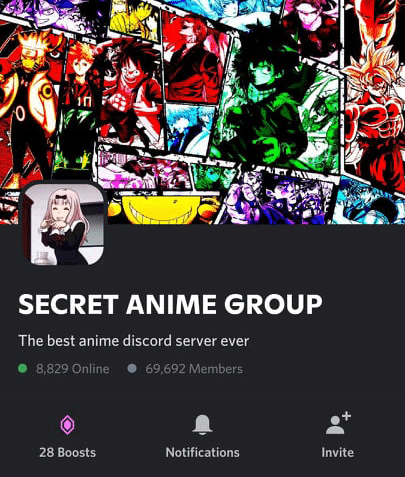 While there are a lot of servers in Discord that feature an anime channel, there are communities on Discord that mainly focus on anime. An anime server usually features things like an active chat channel, fun bots, playing games, self-assign roles, and cool emojis that you can also use in other servers if you have Nitro.
More importantly, though, you can discuss pretty much everything related to anime with like-minded people, including but not limited to:
Discussions
Commentaries
Memes
Trivia
Recent episode releases
Show theories and such. If you've always is wanted to tell someone what you really think happened to that character why did they become like that, maybe you will find an audience in one of these servers.
Pictures you can download as wallpaper or turn into a PFP
News about the anime you're following
Favorite characters
…and maybe even spoilers, if you're fine with that
These and more are what's beyond the "Join" button of anime Discord servers.
Are you ready to know which anime servers should get your attention? Here are the top anime servers on Discord that you must consider joining.
Best Anime Discord Servers
To be honest, determining the best discord servers for anime can be a tricky thing. After all, opinions are subjective. What people find interesting may be different from what others like.
Anime alone has a wide range of genres and types, so fans and viewers may have different ideas on what makes a community server great. Some anime fans may be looking for communities that cater towards the action-adventure type of animes, while others would prefer slice-of-life or romance ones. Not to mention there are like a million animes out there, and some of them have larger, more dedicated fanbase than others. If you're a fan of a few Japanese animations but don't consider yourself an anime fan, you might only want to join an anime discord server that focuses on that particular show or its genre.
Anyway, the list you'll read below is comprised of anime Discord servers that are catered to a more general audience. It's a gathering of anime fans, regardless of what genre or type of anime they're into. Ready to see the list of awesome Discord servers created by anime lovers for anime fans? Let's dive in.
More Anime Discord Servers
Discord has plenty of anime servers, and these are just a few of them. Like in any other kind of server, people have different tastes and preferences. If you don't define yourself as a weeb or otaku and just like a few specific animes, you may just want to join a server where that particular show is the sole topic.
And while all of the servers listed here are SFW, there are still many servers out there that allow the posting of NSFW content. If those are the kind of servers you want to join, you might want to search a little more as they're likely smaller communities. Most of the bigger servers only allow SFW posting to keep the community suitable for everyone.