What Size is a Discord Sticker?
Discord custom stickers should be 320 x 320 pixels, with a PNG max file size of 512KB.
What is a Discord sticker?
Like many other instant messaging apps and platforms out there, Discord lets you send stickers in the chat.
Stickers differentiate from Discord emojis in two ways. While emojis are really tiny, stickers are a bit bigger. Since Discord requires them to be at least 320 x 320 pixels, they will render 160dp on desktop.
Apart from size, another difference between the two is that stickers can be animated. Emojis are purely static, but for stickers, you can use an APNG file or Lottie files for them.
In a way, stickers help you express yourself better and add more fun to the conversation because they're livelier and larger than emojis, all without going through the trouble of searching for the right GIF. You can say it's the happy medium between choosing static but tiny emojis and expressive but larger GIFs.
Do you need Nitro to use stickers?
However, sending stickers on Discord isn't as simple as in other apps like Facebook Messenger and Instagram. For normal users, Discord stickers can only be used in boosted servers. If you have a Nitro subscription, you can use all the stickers on any server and even in direct messages.
A Nitro subscription will allow you not only to use a Discord sticker anywhere on the platform but also gives you other cool perks such as 2 free boosts for whichever server you will choose. Discord Nitro costs $9.99 a month, but there's a more affordable option, Nitro Classic, which is at $4.99.
Format Requirement For Uploading Stickers
Here's a brief overview of what you should keep in mind when you create stickers for Discord:
File type – PNG, APNG, or Lottie files
Max File size – 512KB
Dimensions – 320px x 320px
Background – Transparent (optional)
Matching Unicode Emoji for Sticker Suggestions
Description text for screen reader users. Although this is optional, it can help screen reader users to know what the sticker is like.
How to Upload Custom Stickers on Discord
If you want to add stickers, you need to upload them to a server boosted to at least Level 1. Only 2 boosts are needed for a server to reach the minimum level, and a Discord Nitro comes with 2 free boosts so you can use them. Moreover, this server must be something you own or at least manage.
To add a Discord sticker to your server or one that you manage, follow these steps:
Step 1

Launch Discord and log in to your account, if you haven't done so already.

Step 2

On the top left corner of the screen, click the arrow down beside your server's name.

Step 3

Select "Server Settings" on the drop-down menu.

Step 4

Go to the "Stickers" tab.

Step 5

Click upload a sticker.

Step 6

Choose a file from your computer.

Step 7

Fill in the details of the sticker, like its related emoji and name.

Step 8

Click "Upload".

That's it! For animated stickers, the steps are pretty much the same. Just make sure to upload the correct file (either APNG or Lottie) when adding a new animated sticker.
Can You Upload a Larger Sticker?
For static images, you might be able to upload a larger sticker. However, with animated PNG files, you need to follow the exact formatting requirements, which is 512kb, 320 x 320 pixels. Anything more than that and you won't be able to upload the sticker. Before uploading the file, you may need to check if it meets the formatting requirements and resize it.
What is the File Size Limit for Custom Stickers on Discord?
When uploading a sticker, your APNG or PNG file must not exceed 512KB. 320 x 320 pixels is also the recommended resolution to use, especially for animated stickers.
File Types for Discord Stickers
Discord allows three file types for Discord stickers:
PNG – For static or non-moving stickers
APNG – For animated stickers
Lottie files – This option is only available for partnered and verified server
For those who don't know, Lottie is a JSON-based animation file that helps keep the size of your stickers small without compressing them, while staying high-res. However, not all servers can use this type of file at the moment.
Discord Animated Sticker Size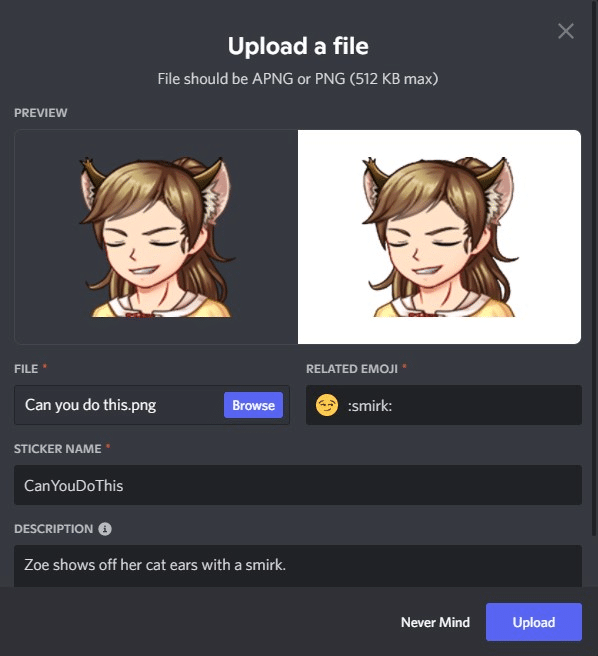 Like its static counterpart, the recommended size for animated Discord stickers is 512KB and below. The dimensions should be exactly 320 x 320 pixels, too.
Discord also only allows animated GIFs up to 60 FPS. If your sticker's framerate exceeds that, better make an adjustment before uploading it.
Likewise, if your sticker is too big, you can use photo editing software and free online image resizers to make adjustments. I recommend Ezgif if you want to edit and resize your stickers. This online tool can also be used to convert other files such as GIFs, to the recommended Discord file type APNG. This is very handy if you have a GIF you want to convert to an APNG file.
Other than that, you can also create APNG files on this website. Have multiple pictures you want to animate? Ezgif will help you whip up one in a minute. There are also other neat features like adding text to your APNG file. So if you need to make quick edits or changes to your stickers, you can do that using this tool.
Of course, there are also other excellent tools out there, so use which one you feel most comfortable with.