However, did you know that Discord has an age limit? Not everyone can sign up on the website and use the app–and for good reasons. In this article, we'll explore Discord's minimum age requirement, how to navigate the vast world of the platform, and things you can do in case you feel your security and privacy might be in jeopardy, plus other stuff, too. Let's get started.
How Old Do You Have to Be to Use Discord?
Basically, Discord requires all its users to be at least 13 years of age. That means, if you're 12 years old or below, you won't be able to create a Discord account. If you try to create an account, you will see this notice instead of getting redirected to Discord's homepage: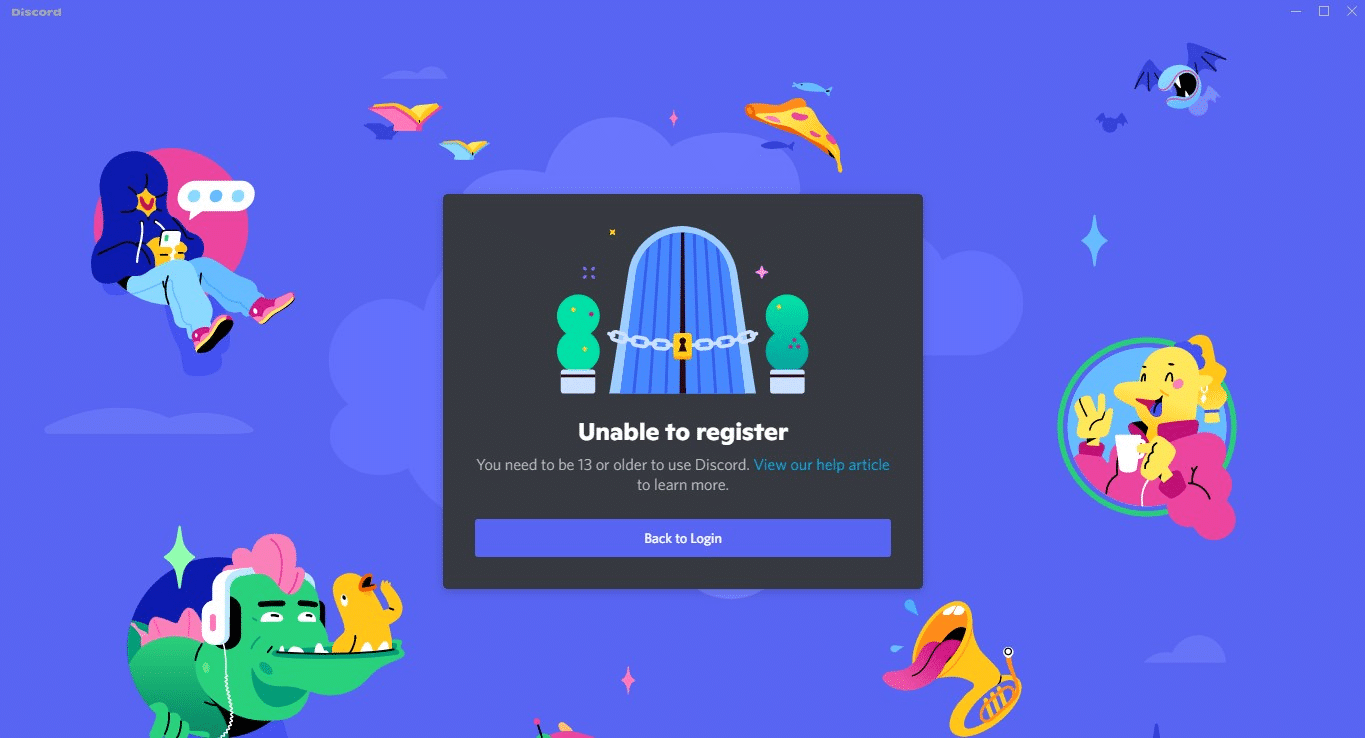 However, in some countries around the globe, the age restriction is a bit higher. Here's a quick rundown of all the age requirements in specific countries:
Asia

South Korea: 14+
Vietnam: 15+

Caribbean

Aruba: 16+
Caribbean Netherlands: 16+
Curaçao: 16+
Sint Maarten: 16+

Europe

Austria: 14+
Bulgaria: 14+
Croatia: 16+
Cyprus: 14+
Czech Republic: 15+
France: 15+
Germany: 16+
Greece: 15+
Hungary: 16+
Ireland: 16+
Italy: 14+
Lithuania: 14+
Luxembourg: 16+
Netherlands: 16+
Poland: 16+
Romania: 16+
San Marino: 16+
Serbia: 15+
Slovakia: 16+
Slovenia: 16+
Spain: 14+

South America

Chile: 14+
Colombia: 14+
Peru: 14+
Venezuela: 14+
However, in some places where the age limit for downloading this app is 12 years old, people are confused about whether they could register for Discord. Still, the platform maintains that you got to be at least 13 years old, so you won't likely be able to create an account even then. Of course, you could test it for yourself and see if you could get in.
There is also Age Restriction for Some Content, Channels, and Servers
Even with a Discord account, there are also places that you won't have access to, especially if you're below 18. While Discord is surely a fun platform to hang out with friends and meet new ones, there's a side to it that isn't safe for younger users.
Like many other social media platforms and instant messaging apps, Discord users can be subjected to seeing inappropriate content. This may range from adult content to media depicting violence and self-harm. Fortunately, the latter and its likes are strictly forbidden on Discord because it violates the Community Guidelines. Users who share such content will be banned.
However, adult content is allowed on the platform, to an extent.
NSFW (meaning, Not Safe For Work) is used to tag content that isn't suitable for viewing in public areas, including the office. Well, that's the broadest meaning of it. Nowadays, the Internet uses the tag for anything that has inappropriate content or media that is usually uncomfortable to view. Most often, too, this refers to pornographic content.
Privacy and opt-in messages are some of the best features of Discord. However, with this comes the ability of users to create channels, manage servers, or upload content that is NSFW. For the most part, this is okay, as long as the owner tags it as such.
NSFW servers
Many public servers are SFW–meaning, posting inappropriate content is strictly not allowed on all channels and can lead you to be kicked out. However, there are also servers that have age-restricted channels dedicated to NSFW content.
NSFW channels
You will usually know if a channel is NSFW if you see a tiny hazard icon (the exclamation point on a triangle) on the channel's name. Some admins and mods also explicitly include the NSFW in the title.
If you're a server owner or mod, make sure to correctly label an NSFW channel, if it has one. For your server's safety (and your own account), remember to set the channel as Age-Restricted in the settings.
To change this setting, click the gear icon and then turn on the Age-Restricted Channel option.
Keep in mind that not all of your members are into this type of content. More importantly, you may have minor members who may stumble upon it unknowingly, so it's better to be safe. You might get a penalty from Discord if you fail to do so, including being banned or your server deleted.
Other users can choose to view it at their own risk, but they will need to confirm their age before they can proceed. Upon entering an NSFW Discord channel, for example, you will see a notification like this:
If you choose to continue, Discord will usually remember your preference and you can view this channel again without receiving the same notification. However, there are some users who report that you might see this prompt again if you switch servers or channels, or log out.
Now, here's the important part: if you're below 18, you are in no way allowed to enter this channel. Instead of the prompt above, you will see this: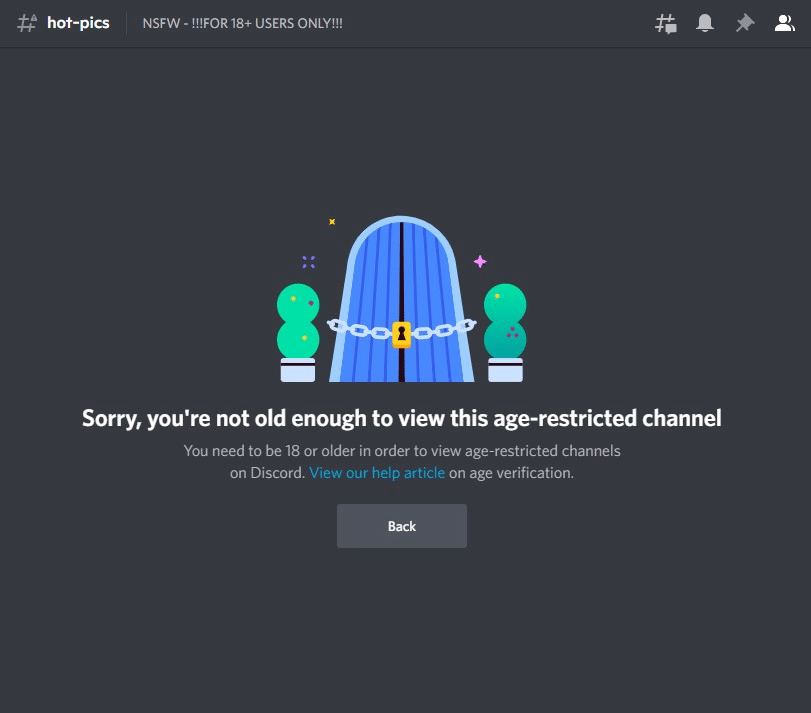 NSFW Media
For uploaded media, such as images, some users may use the spoiler feature to put a blur filter over it. Users may click it if they wish to view the image. As of the time of this writing, there's no specific feature that allows you to post images and tag them as NSFW.
Only upload such content on NSFW-marked channels, or else you might face a penalty or get reported by other members. Most public servers require their members to post NSFW content on the delegated channels, while others simply don't allow NSFW posting altogether. To be safe, read your server's rules carefully as well as Discord's guidelines to know what's allowed at what's not.
Why Do You Have to Be 13 Years Old to Use Discord?
Discord states in their Terms of Service that users must meet the minimum age requirement to create an account, which is 13 years old.
The main reason Discord imposed a rule that only thirteen-year-olds and above are allowed to create an account is the potential risk the platform might pose to very young users.
As I've said above, Discord has its murkier side that's not appropriate for kids and even teenagers. Besides the possibility of stumbling upon NSFW content, they might also run the risk of meeting malicious individuals who may harass them, get themselves involved in something dangerous or illegal without their parents knowing, or worse, meet a predator.
Other than that, Discord also collects data from its users, as any social media platform would. Younger kids don't generally understand the impact of sharing personal data, and they might get taken advantage of–not by Discord, but most likely by other users.
Even though Discord states that they don't sell personal data, there's still a slight chance of the information being breached by people who are up to no good.
Besides, there are users who blatantly ask for personal information, and without proper knowledge of how to deal with this kind of malicious act, younger kids (and sometimes even older users) may give it to them out of trust.
COPPA and Discord's Age Limit
Another possible reason Discord won't allow anyone under 13 to create an account, is that admitting very young users takes more work to manage. Since Discord's main office is located in San Francisco, they have to comply with COPPA or The Children's Online Privacy Protection Act of 1998.
Local legislation mandates that children under the age of 13 will need parental consent. Under the law, parents need to review or monitor their children's activities on a website or app. This means Discord must make features or parents to access their child's account, even giving them the power to delete it altogether.
Implementing this system will require Discord to make a special identification for under-13 users. It will require Discord to use way more resources to manage and maintain the service.
Potential Child Risks on Discord
Unfortunately, Discord can be dangerous, especially for children and teens. Some of the risks involved in using Discord are the following:
Inappropriate content, such as violent and pornographic media
Younger users may become the object of predatory behavior from strangers or malicious individuals posing as "trustworthy friends" (Sad to say, too, that this is a frequent occurrence on Discord)
Online bullying
Harassment
Phishing (obtaining sensitive information through DMs)
Profanity and abusive language
Racism and discrimination
Spam
and others.
Risks can happen, whether you're using text, voice, or video chat.
All of the above violates Discord's TOS and Community Guidelines. However, being a platform used by millions of users from all walks of life, sometimes, things like these can still happen. The good news is, that there are ways you can stop and avoid such things in the future.
Safety Settings on Discord
There are a few things you can do to stay safe on Discord. Here are some of them:
Control what kind of content you receive on your DMs
Limit who can send you direct messages and/or friend requests
Don't be afraid to report or block users.
All of these can be configured in the User Settings. To access it on the desktop, just click the cogwheel or gear icon beside your username.
Privacy and Safety Settings
On the User Settings page, you can check out the Privacy and Safety tab to control several features. Here's a quick rundown of them.
Safe Direct Messaging
With this setting, you can ask Discord to scan direct messages for you and automatically delete them if they contain explicit content.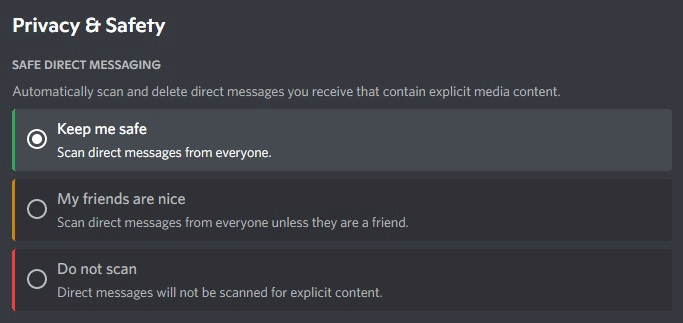 Keep me safe – With this setting on, Discord will scan all DMs from everyone.
My friends are nice – If you choose this option, Discord will scan direct DMs from everyone unless they are a friend.
Do not scan – With this setting on, Discord won't scan any messages and you will receive all DMs, whether they contain explicit content or not.
Server Privacy Defaults
This category has two settings you can configure.
Allow direct messages from server members – This will allow other members in a new server you've joined to send you DMs.
Allow access to age-restricted servers on iOS – This will allow you to view servers restricted for 18+.
Who Can Add You As A Friend
You can also choose who can add you as a friend. There are three options for this: Everyone, Friends of Friends, and Server Members. You can also disable friend requests from all three, and you won't receive any. However, that still won't stop you from sending friend requests yourself.

Reporting and Blocking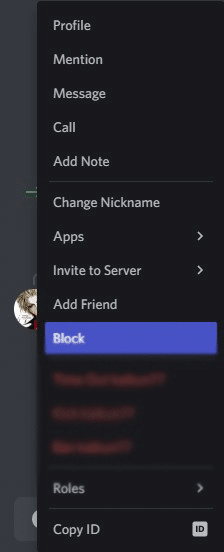 If you find a user has worrying behavior, you can simply right-click (long press on mobile) on the user's profile picture, and then click Block.
And if the person continues to harass, threaten, or commit questionable acts, don't be afraid to report them. Although reporting a user isn't as straightforward as simply blocking them, you can do so by telling the server owners or moderators about the person's behavior.
However, if you find the admins aren't taking action (or they are somehow involved in the case themselves), then file a report. You can do that by submitting a request to Discord's Trust and Safety team. If you want to know more, this comprehensive guide on reporting an entire Discord server might help you.
Additional Tips To Stay Safe on Discord
Besides securing your account's settings, there are also a number of other precautions you can do to avoid running into risks on Discord:
Don't accept friend requests from people you barely know, especially if they seem suspicious
Be careful when dealing with links. Some of them might be spam or lead you to dubious websites
Never share personal info, such as phone numbers, emails, addresses, etc.
Create a strong password
Always be on your guard, especially when dealing with someone you don't know