So, what do we do when an invite link we receive is expired or invalid?
In this article, we will cover the different reasons a user may receive an invite invalid error message, as well as some fixes for Discord invites that server owners may encounter.
What Makes a Discord Link Invalid or Expired?
First, you might be wondering what actually makes a Discord invite link invalid?
There are a number of different reasons why this can happen.
Discord Invite Expired

The first and easiest to fix is an expired link.

If your Discord invite link has expired, simply create a new invite link from the server menu.

Invalid Code

The second and probably most common reason you can't join a Discord server is you typed the code in incorrectly.

If you get the code wrong, you will receive an invite invalid error.

Double-check the code you were sent and try again. An invite link is case-sensitive, and often an invalid invite is simply due to the wrong capitalization of letters, which can be remedied quite easily.

Server Limit of 100

If you receive a Discord invite and are unable to join the server, you may already be at your limit of servers.

Free Discord users can join a maximum amount of 100 servers, while Nitro users can join up to 200.

Check how many servers you are currently a member of. If it is at the maximum number, you will need to leave a Discord server before you can join a new server.

Revoked Invites

A revoked invite can happen when a server owner makes their server private.

Any invite links sent before the change will be rendered null and your current link will be revoked.

Server Ban

Discord server owners and admins can ban people from servers.

Doing so will make any invite invalid to the banned party. and they will not be able to join the Discord server.

A server's owner has ultimate authority in this, and if you are banned your only option is to contact the Discord server's owner to get the ban lifted.
How to Fix an Invalid or Expired Link
As a server owner, if you send out an expired or invalid Discord link, you are not growing your community the way you want.
To fix your Discord invites, you will need to create a new invite link so the users you want to join can actually do so.
Open the server menu and select Invite People.
Copy the generated invite link and send it out.

How to Join a Discord Server With an Expired Link
Sadly, you cannot join a discord server with an expired or invalid invite.
You will need to receive a new invite link from the server's owner in order to join.
How Long Do Discord Links Last?
The default expiration date is 7 days from when the invite was created. You can generate Discord invite codes to last anywhere from 30 minutes to 7 days.
This means that waiting until after the selected time will render the invite invalid.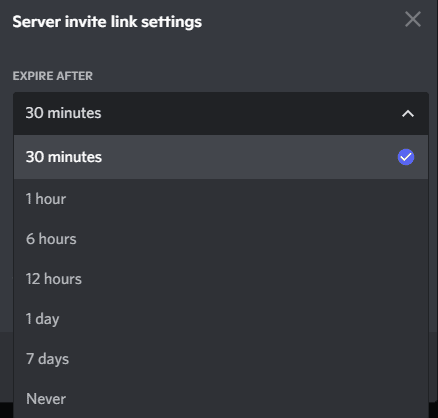 As a server owner, you should pay close attention to when your Discord invite links expire to avoid your users receiving an invite invalid error.
A server's owner can generate a server link to never expire.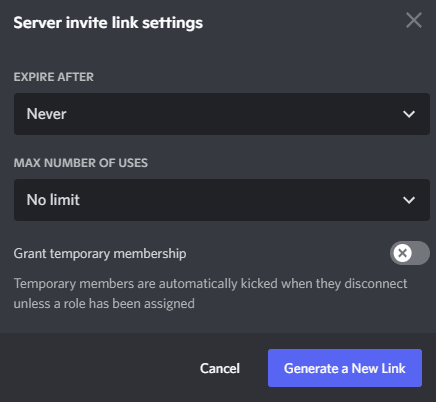 This can be helpful as a server owner if you do not want to constantly post new invite links.