One of the easiest ways to advertise and trade an NFT is through a Discord server.
There are several NFT Discord channels that have been created for buying and selling NFTs. There is even an official NFT Discord Community among many other Discord servers that deal primarily with the making, advertising, and trading of NFTs. These multiple servers are referred to as the NFT virtual multiverse.
If you're new to NFT trading, or you're looking for a stable community to trade NFTs, there are some fun and cool NFT Discord servers that have been pioneering their own NFT projects and have established a name for themselves.
In this article, find out which NFT communities are great places to hang out with and decide for yourself which of them is the best NFT Discord server that matches your own preference.
Best Discord Servers for NFT Collectors
NFT collectors and NFT owners alike are always enthusiastic when it comes to the latest NFT news and projects that are posted online. From the largest NFT marketplace to the most recently created NFT Discord server for any specific NFT project, it's always good news for NFT and Crypto collectors whenever there's something new and trending around the corner.
If you're a self-proclaimed NFT collector, you should know each of the NFT Discord servers and NFT community mentioned below. And if you're looking to join the hundreds of thousands of NFT collectors worldwide, here are some of the great NFT communities to hang around with:
NFTs World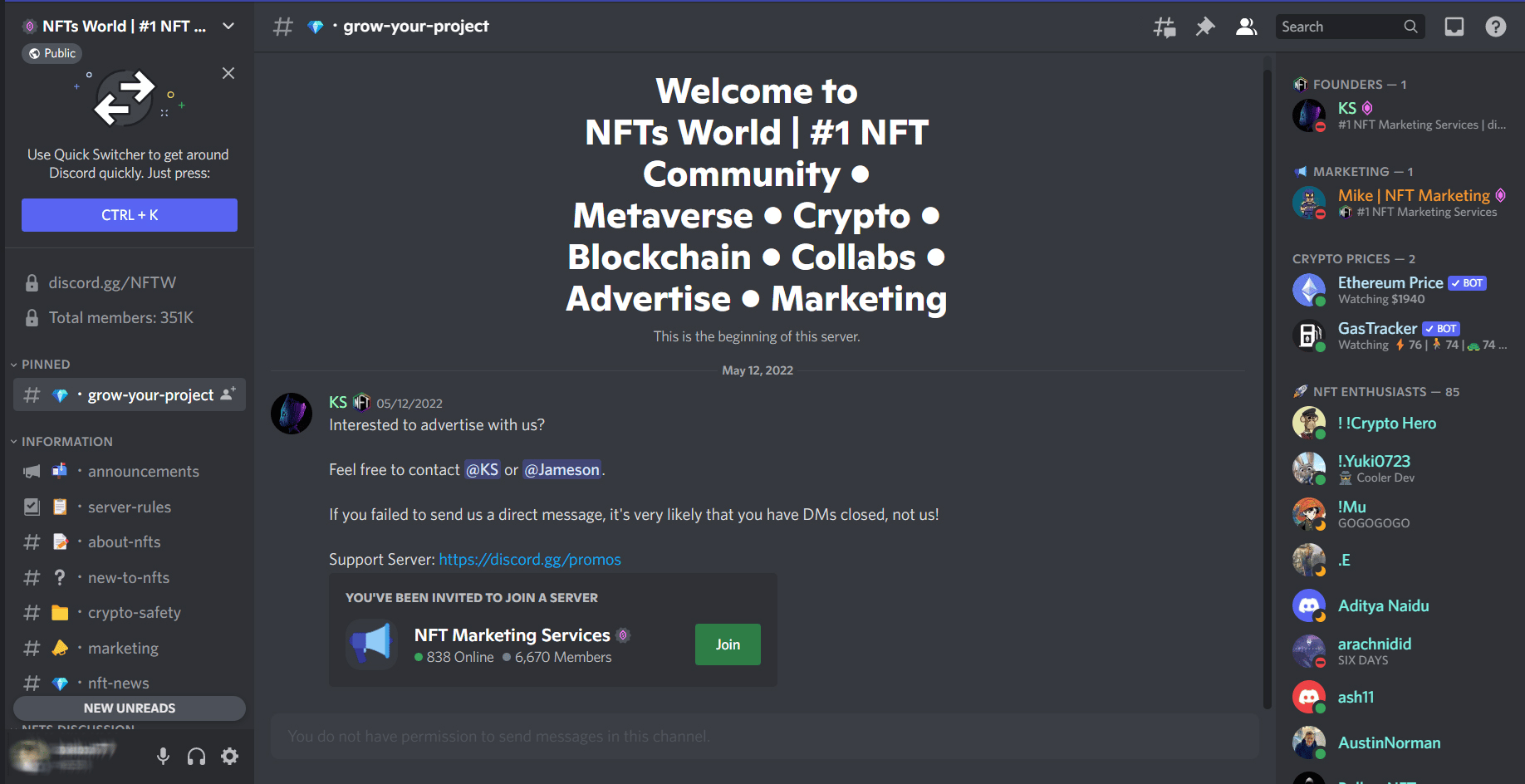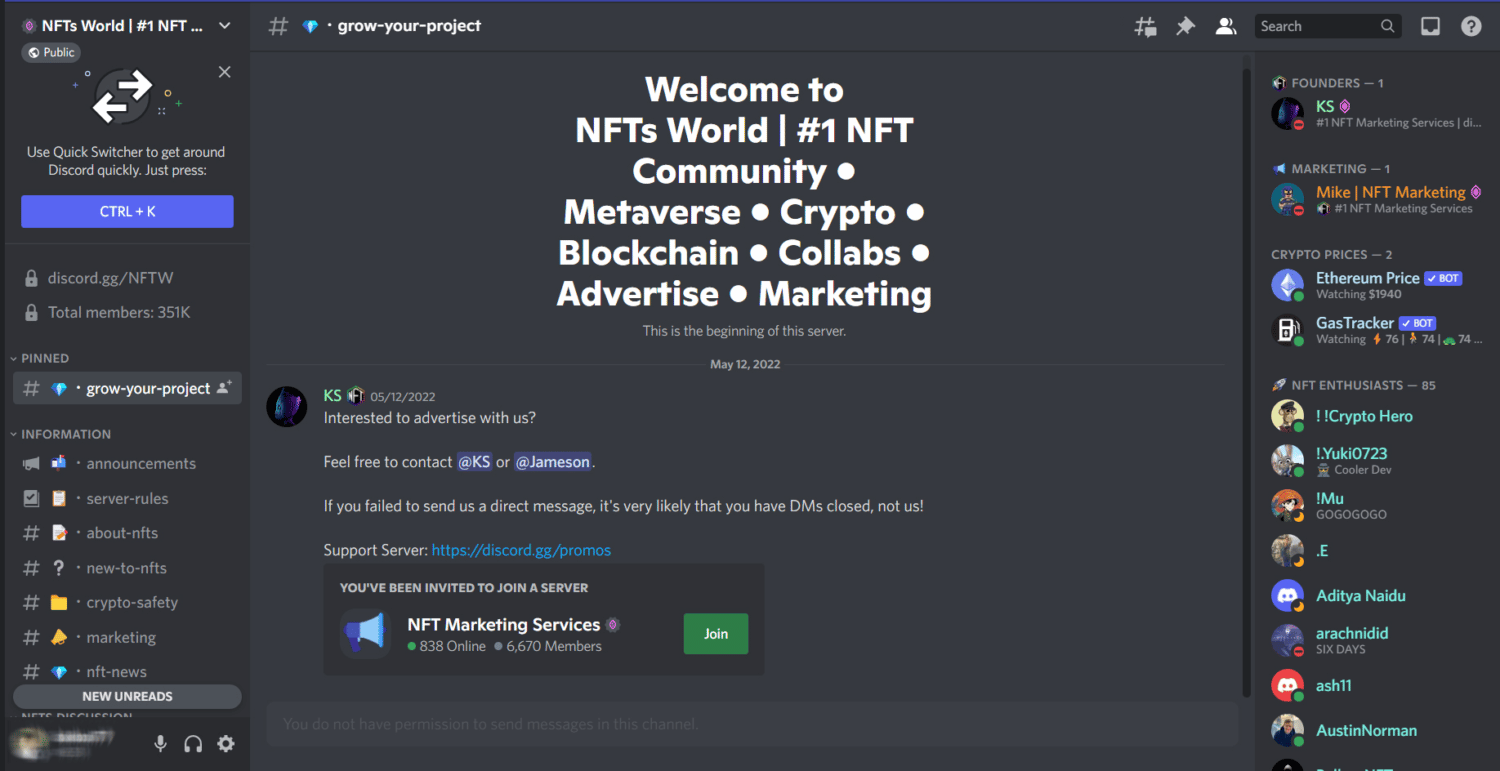 Total members: 350,994
Active members: approx. 42,800 online at any given time of the day
NFTs World might just be the largest NFT marketplace in the entire populace of NFT communities around Discord. Not only that, but they are also available on many other social media platforms like IG and Twitter. Both their Discord and Instagram communities are great places to start when you're a newbie in the NFT world.
There are also a lot of perks to benefit from when you join the NFTs World Community. You will be able to have access to new NFT projects weekly, grow your own NFT project, and advertise them to hundreds of thousands of NFT collectors around the globe.
Some of the biggest NFT communities with the same concepts as NFT World are Atomic Hub and WAX Blockchain Discord servers.
OpenSea
Total members: 221,813
Active members: approx. 23,400 online at any given time of the day
OpenSea Discord server consists of more than 200,000 members that are trading NFTs on a real-time basis. This server is the first NFT marketplace in Discord to have stabilized and become a regular hangout place for NFT collectors of many sorts. If you're a new creator or NFT dealer, OpenSea is the perfect place to hang around to get a know-how about anything NFT-related.
OpenSea is not only the first, but one of the largest NFT communities on Discord with over 44 channels of varieties to choose from. OpenSea is also a safe marketplace considering its No-DM Policy which allows its users to steer clear of bogus and harmful user accounts.
MekaVerse
Total members: 150,000+
Active members: approx. 1,200 online at any given time of the day
MekaVerse might be a smaller NFT Discord community compared to the two servers mentioned above but for a Japanese Anime Mecha-themed NFT collector, MekaVerse is the best NFT Discord server to flock into. It boasts of over 8,800 generative 'Mekas' that are inspired by Japanese Mecha-anime with each having its own original artwork, color, and creation. You can also find the MekaVerse on Twitter and Instagram.
NFT NOW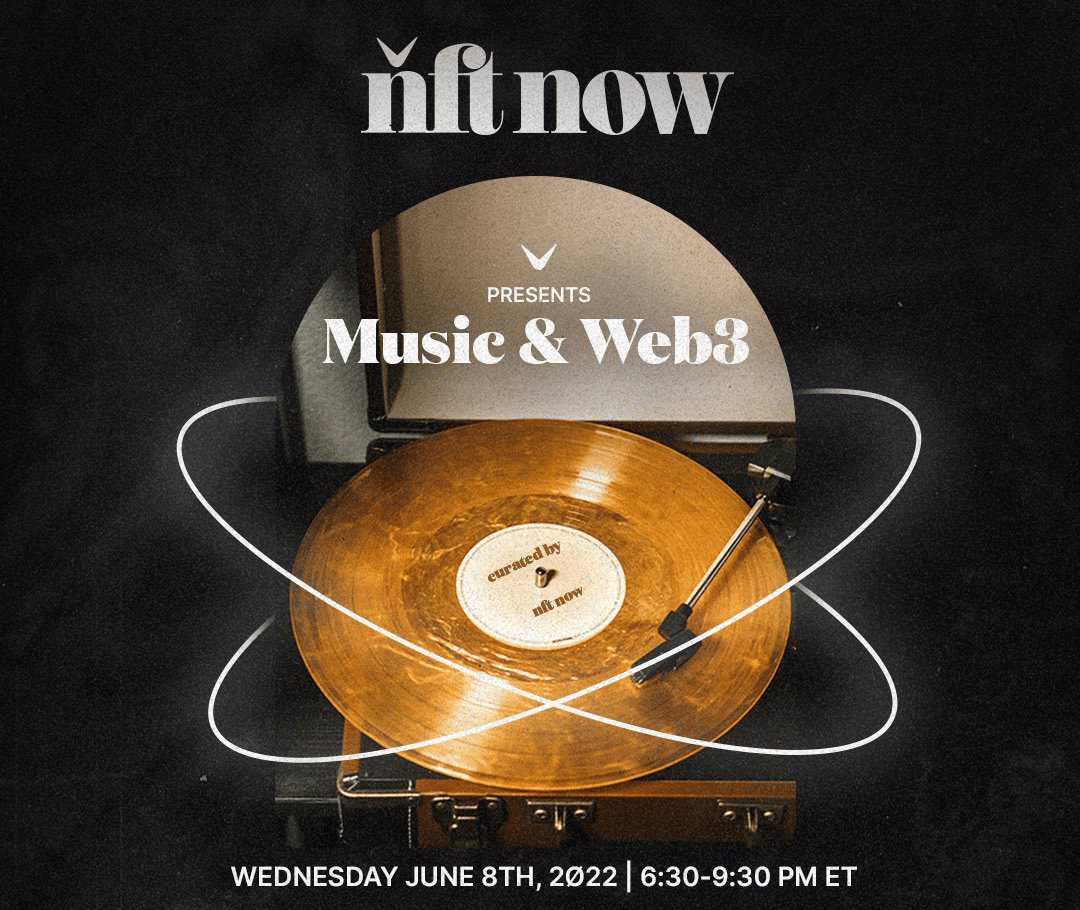 Total members: 8,073
Active members: approx. 1,100 online at any given time of the day
NFT Now Discord server is a small gathering of NFT collectors who flock around the latest news, upcoming NFT projects, and incoming major events in the NFT industry. Although small and limited in the Discord app, NFT Now is a large community outside its bounds through other social media platforms, including Twitter. Get the latest news and updates of anything NFT-related with NFT Now!
Rarible
Total members: 129,264
Active members: approx. 5,500 online at any given time of the day
Rarible Discord server is by far the most advanced and up-to-date NFT community being the world's largest community-owned NFT marketplace. Rarible boasts of highly secured digital collectibles through the incorporation of a strong blockchain technology. With its rare and unique blockchain tech, Rarible is also looking towards becoming an autonomous platform managed through a community governance model.
With Rarible, NFT minters are given choices to "Instant Sale Price" or "Put on Sale". These options give them the best possible exchange they can have when it comes to minting, trading, or simply buying and selling NFTs. Rarible uses Ethereum Blockchain for their NFT trading.
Enter.ART (Enter $NFTArt)
Total members: 38,899
Active members: approx. 1,400 online at any given time of the day
ENTER.Art is a collective of developers, artists, and musicians alike who come together to create a unique NFT platform with a sustainable ecosystem through cutting-edge technology integrated over Binance Smart Chain. ENTER-Art aims to build a community where creators, investors, collectors, and NFT enthusiasts would be able to enjoy NFT art on a whole, different, and higher level.
ENTER-Art welcomes any NFT artist who would love to challenge themselves with new-generation custom NFT projects and continue to strive in bringing something new and unique to the table. The Enter.Art Discord server boasts of a friendly NFT trading community with very low transaction fees and simplified solutions.
Best Discord Servers for NFT Enthusiast
VeeFriends
Total members: 371,794
Active members: approx. 32,400 online at any given time of the day
VeeFriends is the name of the NFT collectibles created by digital serial Entrepreneur Gary Vaynerchuk, who is also the man behind VeeFriends Discord channel called VeeCon.
VeeCon is an exclusive multi-day series of events for Gary's NFT holders. With a three-year access pass to valuable information and wonderful NFT experience throughout, VeeFriends token-holders would enjoy a lot of perks in their Discord community.
The VeeFriends Discord community boasts of its exclusivity and requires new attendees to go over a verification process before becoming a part of the community.
r/NFT Discord Community
Total members: 107,246
Active members: approx. 9,200 online at any given time of the day
r/NFT is the official NFT Discord community that helps NFT enthusiasts get a good grasp of how things work in the NFT industry. From learning the basics to enjoying the awesome experience of NFT minting and trading, and advertising your own NFT project, this exclusive Discord server is also part of the NFT Subreddit.
For a newbie in NFT trading, r/NFT Community is a great place to start.
Best NFT Discord Servers for Games and Sports Enthusiasts
NFT Discord servers are not only for minting, trading, buying, or selling but also for NFT gaming. Here are some of the well-known NFT servers for games and sports enthusiasts:
Decentraland
The concept of Decentraland is combining the virtual realm with the physical world. Having its own Decentralized Autonomous Organization (DAO) is something that only Decentraland has among other NFT communities, by far. If you're new to NFT gaming, Decentraland is one of the coolest places to hang out if you want to wrap yourself up with everything NFT gaming-related.
Decentraland also has its own in-game property market that sells both digital and physical products ranging from cool gaming NFTs (digital), to clothing for you (physical) as well as your characters (digital), and more.
Topps NFT
Topps NFT is a dedicated Discord server with multiple channels created and conceptualized for Sports enthusiasts, especially around Major League Baseball (MLB). MLB NFT holders trade their cards inside their Discord server and also keep fans up-to-date with new MBL checklists.
NBA Top Shot
If Topps is for MLB, NBA Top Shot is for National Basketball Association (NBA) lovers. Although NBA Top Shot has been experiencing a decline in its user base (according to the latest news from NFT Now), they are still a good place to trade NBA NFTs with.
NFL ALL DAY
The Official NFL NFT project exclusive for NFL NFT minters and traders, NFL ALL DAY is a private server created as NFL's NFT marketplace where NFL enthusiasts, fans, and collectors flock together to enjoy and celebrate their commonalities and love for the National Football League (NFL).
If you're an avid NFL fan, whichever team you're rooting for, NFL ALL DAY is a great place for you to hang out and make friends with.
AXION Crypto Community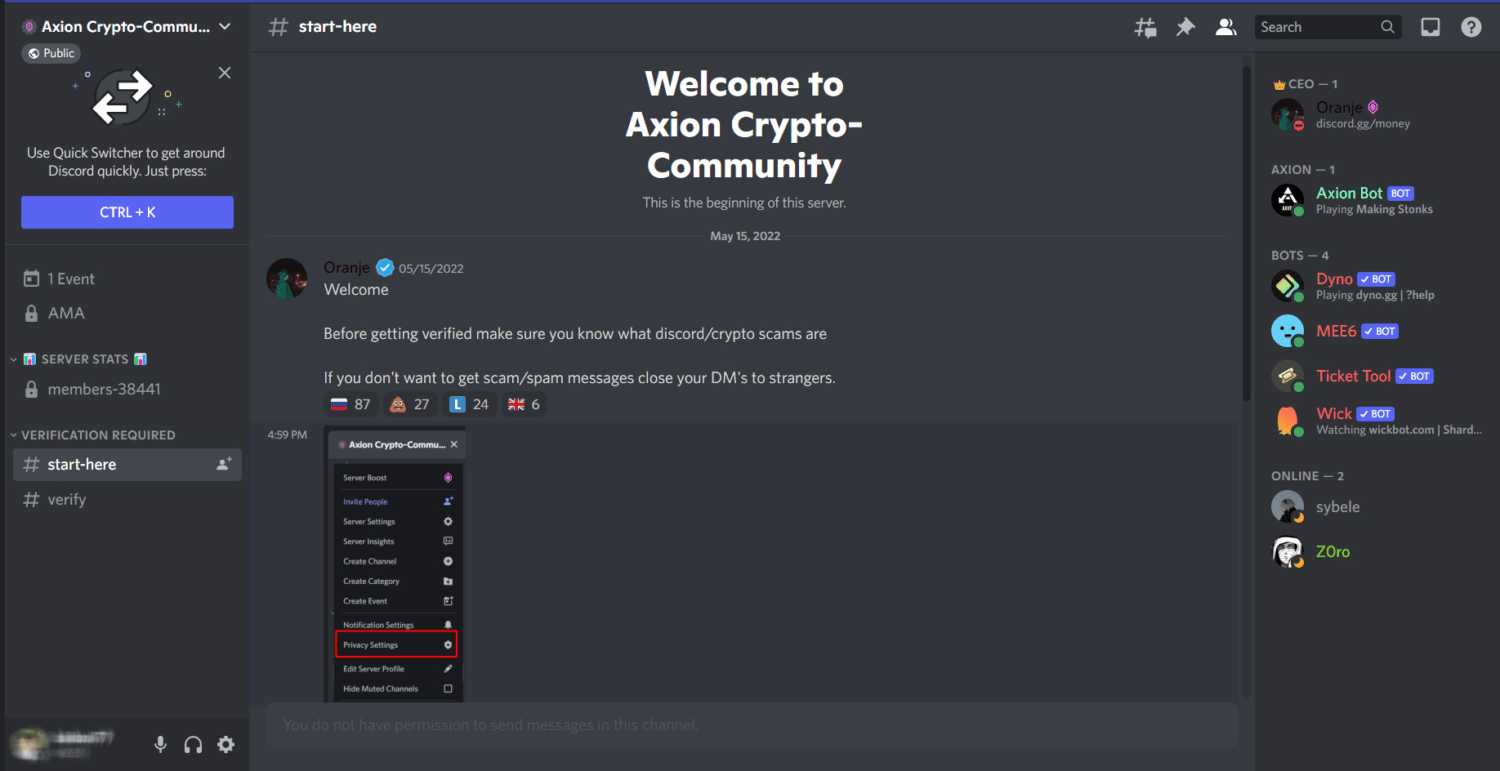 The AXION Crypto Community is also a good place to buy and sell gaming NFTs. This Discord server might just be one of the biggest Crypto-NFT trading platforms in the world in terms of gaming. The AXION Games is also an outsourcing partner to Epic Games, the home of the world-acclaimed online games like Fortnite Battle Royale, Gears of Wars, and more.
If you love gaming lineups on the blockchain, then, AXION Crypto is right for you.
Starship NFT Game

For a gaming NFT collector, Starship NFT Game is the right place for you to start earning and trading NFTs. Just like how AXION Crypto works, StarShip also prompts users with a captcha during the verification process to ensure newly signed up attendees are really human and not auto-generated bots. Additionally, the server requires members to be a $STARSHIP token holder in order to remain active in the game and enjoy all-access passes inside the community.
Some other NFT Discord channels and servers worth mentioning are the following:
Ninja Hideout
Ninja Hideout holds more than 8,000 unique Ninja NFTs that are rated depending on their rarity and property. Each Ninja can be rated on a scale from 1 through 10 and ratings are calculated by virtue of Strength, Agility, and Intelligence–characteristics that are just like what a true Ninja character should possess.
Ninja Hideout is a friendly community aiming to house the most coveted Ninja NFTs and build a fun-loving environment for NFT collectors and enthusiasts.
Larva Labs
With some of their developers and creators to have worked with SocMed giants like Google and Microsoft, Larva Labs boasts of owning the two famous crypto art projects: CryptoPunk and Autoglyphs. To get the latest additions to these two world-class NFT projects, or just enjoy exclusive perks around the server, joining Larva Labs NFT Discord community will also unlock wonderful opportunities for you.
Crypto Baristas
Crypto enthusiasts and coffee lovers who share the same love for both should find Crypto Baristas project as the ultimate hitting-two-birds-with-one-stone kind of experience. Ending their Season 1 with a splash, Crypto Baristas has blended yet another cool set of coffee-themed NFTs that will be coming out this June 2022.
What to Look for in an NFT Discord Community
Whether a new Discord group or a long-established NFT Discord server, what you need to look for in an NFT Discord community should reflect the kind of opportunities you want to be involved with in terms of NFT trading. For a novice in the NFT topics, learning NFT and all kinds of things related to it should give you a heads-up on what kind of community you're trying to become a part of.
If you're looking to join an NFT community on Discord, here's a quick checklist for a healthy and user-friendly NFT community:
No DMs within members inside the server to minimize scams and bogus transactions.
Proper verification process to ensure all members are real and credible.
Always up-to-date with the latest upcoming NFT projects and events.
They don't always have to be a large community but should coincide with your personal preference for what you're looking for and what a server can offer you.
Frequently Asked Questions
What is the best NFT Project catered in a Discord server?
There is no such thing as that because each project is unique and created to identify with certain groups of people who love doing or collecting the same genre of NFTs. The bottom line is: that finding what you're looking for in a given NFT community and in doing so connecting with other kindred spirits should be the definition of having and getting the best.
How to identify the best NFT Discord servers if you're new in the NFT World?
There are no rules in identifying the best NFT server. However, in order to land on the right and the best one for you, you need to check within yourself what you're looking for before becoming a part of any NFT community. Again, choosing which server to join doesn't necessarily mean picking out a large Discord community especially if you're new in the NFT industry. For new NFT collectors, look for the one that best suits your taste and preferences.