Although Discord is an amazing messaging and communication app for friends, families, and different communities, it can be undeniably overwhelming and annoying in various situations.
This is exactly why you should learn how to mute someone on Discord. Muting means you won't hear any notifications despite receiving messages. It's an essential skill to learn to ensure you feel at peace while using Discord and avoid distractions without ruining your relationships with the muted people.
If you want to mute only one person, you've come to the right place as I'll be teaching you how to mute them in a voice chat, a server, or a private message.
How to Mute Someone on Discord Voice Chat
One of the amazing features of Discord is voice channels. It allows users to join together in a voice or video call in real-time and even shares their desktop or mobile screen with their friends. You can also use text chat if you're just listening to the call and can't or don't want to speak.
As you're listening to the voice or video call, you may just want to focus on the video or shared screen, or you may hear unwanted noises from the speaker or one of the speakers, such as loud crunching noises, strangers, or family members talking in the background, and more. In these cases, it is perfectly fine to mute someone on Discord voice chat.
On PC
Step 1

Go to the voice channel you joined.

Step 2

Right-click the user's video or picture or their name in the server sidebar, then click the Mute box.

That person is now muted. While they are muted, they can freely continue to talk, but on your end, you won't hear anything from them. You can see that they have the mute icon in the lower-right corner of their video or picture and beside their name in the server sidebar, similar to this sample:
On mobile device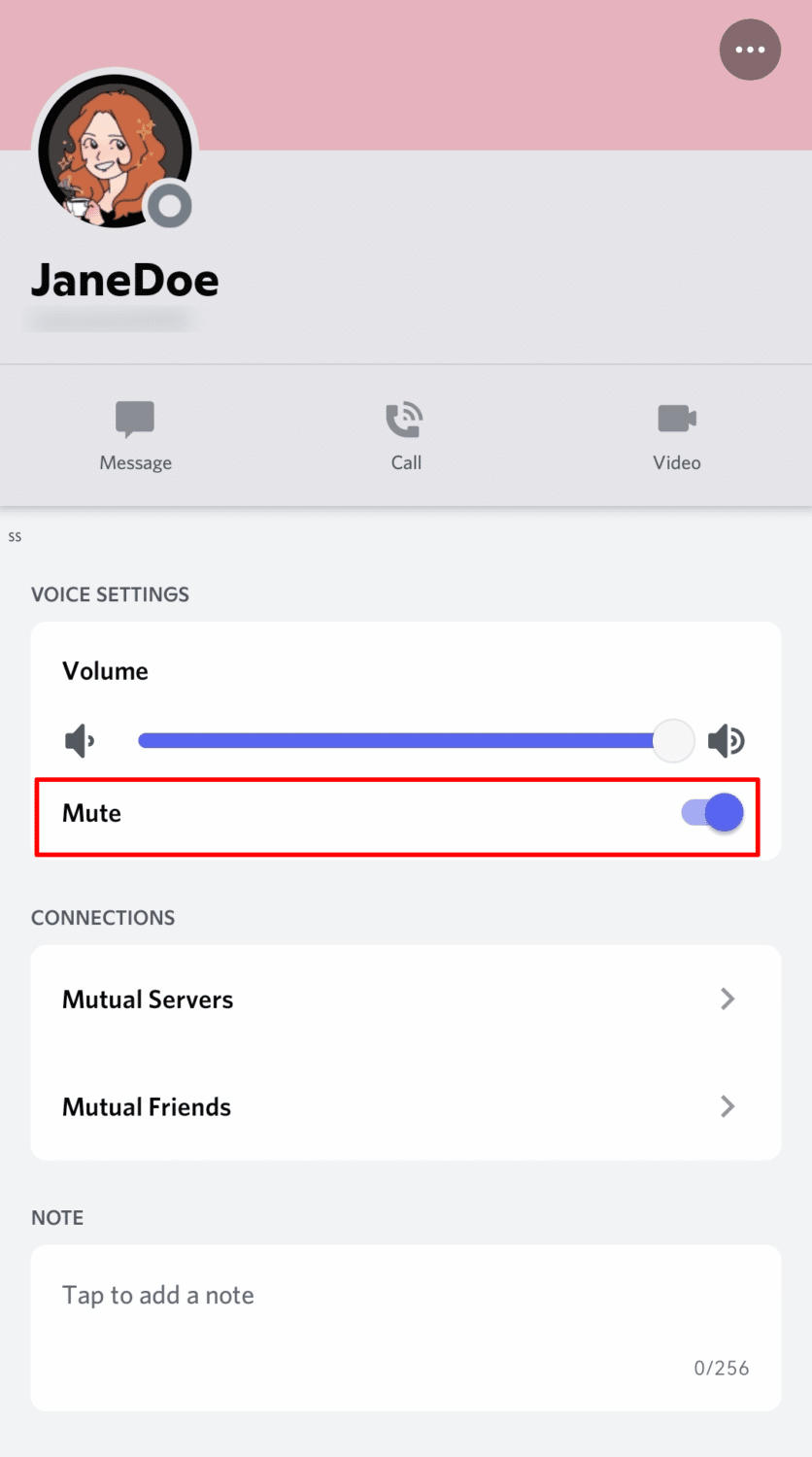 If you're using Discord through your phone, long-press the user's video or picture, then toggle on the Mute button.
How to Server Mute a Discord User
This solution is perfect if you own or manage a server and you notice or receive complaints from several members about a certain someone who talks loudly or is noisy often in the voice channels. What option does is mute them not just in a single voice channel, but in other voice channels in the server as well. Here's how to do it on your PC:
Step 1

In the voice channel, right-click the person's video or picture in the voice call and tick the "Server Mute" box. You can also right-click the person's name in the sidebar and it will reveal the same menu.

Step 2

When that's done, you'll notice that the person will have a red muted icon. This will appear in all of the server's voice channels and other users will not be able to hear that person as well.

On the muted user's end, they will also see the red muted icon. This means they know that are muted by the whole server voice chats. While they can still join voice channels, they can't speak freely and will be notified that they will require the moderator or admin's permission to speak. This is the notification they will get if they try to unmute themselves in a voice channel:
How to Mute Messages on Discord
You can receive messages on Discord through text channels or private direct messages. However, you may want to mute users who are always sending messages through these methods. The best part about muting a Discord channel or someone on Discord is you can do this even if you are just a member and it will not notify users that you muted them. If you want to mute users in both, you should follow the steps below.
Mute messages in a server channel
Step 1

Right-click the channel name in the server sidebar or, if the channel is currently open, at the top beside the server name. Both will show the same menu.

Step 2

In the menu that appears, hover your mouse pointer on "Mute Channel" and click the time limit. Doing this will mute the entire channel and its users.
Mute a private chat
Step 1

Click the Discord home icon. This refers to the Discord logo or icon at the top left corner in your sidebar along with the server list. Clicking it will show you your direct messages list.

Step 2

Right-click the person's username you want to mute.

Step 3

In the menu that appears, hover over "Mute @username" and click the time limit you want to apply.