Whether it's streaming Netflix on Discord or watching movies on other websites; or even if you want to stream movies or videos on YouTube, we've got you covered.
Discord app is not just an application to play games. It is such a flexible and ever-improving platform that caters to its users' needs, and streaming Netflix and other streaming platforms are a few of those problems they offered a solution to.
How to Stream Movies on Discord
First, you need to create a server where you can add your friends and family. Have them join the voice channel. After that, here are the steps you need to follow in order for you to successfully stream movies and TV shows on Discord:
STEP 1

Click on the gear icon on your Discord app located at the bottom left corner.

STEP 2

Scroll down on the navigation panel until you see the 'Activity Settings' tab. Click on it and a drop-down menu will show. Select 'Activity Status.'

STEP 3

If it shows 'No game detected', click on 'Add it!'

STEP 4

Choose the default browser on your computer (e.g. Google Chrome)

STEP 5

Click on 'Add Game'. Discord will detect your browser as a game activity that you can stream.

STEP 6

Click 'Overlay' to toggle 'ON.'

STEP 7

Click on the screen icon to open 'Screen Share'.

STEP 8

Choose the Discord server you want to live stream on.

STEP 9

You can adjust the stream quality, resolution, and frame rate according to your preference. Note that the recommended performance settings for resolution and frame rate for Discord's free version are 720p and 30frs respectively. You can opt for higher quality by having a Nitro account.

STEP 10

After you adjust the necessary things under the 'Screen Share' menu, click on the 'Go Live' button to access the live feature on Discord.

STEP 11

Click the green 'Screen' with a curved arrow icon to enable screen share.

STEP 12

Make sure to click 'Hide Members' to enjoy fullscreen.
Here's what a fullscreen looks like when streaming a movie on Discord. Always make sure that your audio is enabled.
Movies on Discord
A black screen is an issue most users complain about when streaming Netflix on Discord. This is also the same problem users encounter even in streaming movies and TV shows on different websites. Here's how to stream movies on Discord without black screen detection on browsing apps like Google Chrome, Microsoft Edge, and Mozilla Firefox.
Google Chrome
STEP 1

Open the settings menu on Google Chrome by clicking on the three vertical dots at the top right corner of your browser.

STEP 2

Click on the 'Advanced' tab and it will show you a drop-down menu. Select 'System'.

STEP 3

Disable hardware acceleration by clicking the button and relaunch the browsing app to save the changes.
Microsoft Edge
STEP 1

Open settings by clicking on the three vertical dots at the top right corner of your browser.

STEP 2

Click on 'System and performance'.

STEP 3

Disable hardware acceleration by turning the button off. Click 'Restart' to save the changes made.
Mozilla Firefox
Step 1

Open application settings by clicking on the three horizontal lines at the top right corner of the browser. Select 'Settings'.

STEP 2

Click on the 'General' menu and scroll down until you find 'Performance'. Uncheck the box with the 'Use recommended performance settings' option beside it

STEP 3

Uncheck the box with the 'Use hardware acceleration when available'. Close the browser and relaunch.
How to Hear Movies on Discord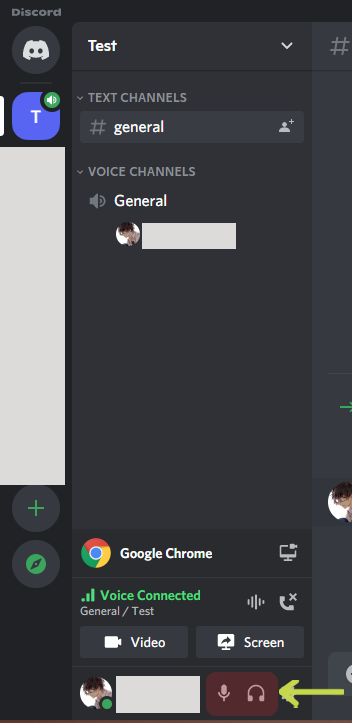 Whether you want to make a server or join one, you will be able to watch and hear the movie audio by joining on the voice channel on that server. If you are the one hosting a movie live stream, make sure your audio is not on mute, and your output audio is not deafened.
How to Stream Netflix on Discord
Spending time with friends and family by having a Netflix party is very popular nowadays. However, because of the pandemic, it's harder to see each other in person. Discord has solved this problem by connecting people through the Discord app. Now it's very easy to spend quality time and have fun with people by having a virtual Netflix watch party.
Here's how to successfully host a movie night by streaming Netflix on Discord.
STEP 1

Create a Discord server add your friends and family.

STEP 2

Open Netflix on your browser of choice (e.g. Chrome). Following the steps above on 'How to stream movies on Discord' (from Activity Status – Go Live), you will also do the exact same thing, except you open Netflix instead of other websites.

Share Netflix by enabling the share screen feature on the Discord app. Choose the movie or TV series/show you want to stream. Enter fullscreen and press play.

Have your server members enter the voice channel to hear the audio of the stream. A 'Voice Connected' tab should appear on top of everyone's username, a sign that all are connected to your screen share. Also, remind them to double-check their audio settings to avoid troubles along the way.
One of the most common problems of video streaming is the black screen. That's why it's important to note that the reason why you should stream Netflix on Discord using a browser is that you cannot screen share Netflix using the Netflix app on your desktop. Using the desktop app upon streaming shows a black screen playing instead of the actual movie itself. Therefore streaming using the application on your PC is not recommended.
Other desktop apps like Disney+, Rakuten Viki, among others cannot be directly streamed on Discord. Use your browser of choice instead.