You can share pictures on Discord in many ways, including sending them directly from your computer's desktop app, taking and upload images with your webcam, or from a cloud service such as Google Drive or Dropbox. This article will guide you through each process.
Requirements for Sending Images on Discord
You may send videos and photos from your device on Discord. If you're using the desktop version of Discord, you can upload files from the file explorer to send video messages.
If you're using Discord on a mobile device, you can send video clips from your photo library. You need to allow Discord to access your photos first, however.
If you don't allow Discord to have access to your photos, you won't be able to access them through the platform, and you won't be able to share videos on Discord mobile as a result.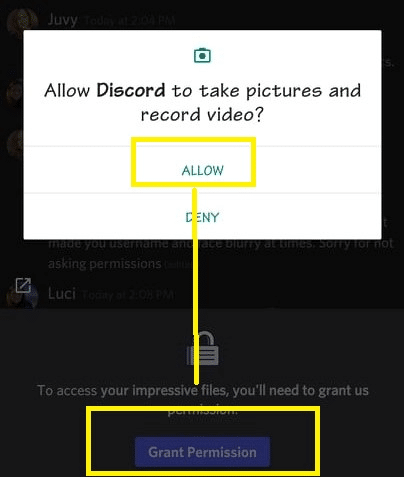 Discord has file upload limits for attachments you can include in your messages. The limit for a typical Discord account is 8MB. The Nitro Classic subscription has a data limit of 50MB. The Discord Nitro subscription allows you to upload files up to 100MB in size.
The following are required to send an image on Discord:
A tablet or an Android device with a camera.
The Discord app, which is available on Android and iOS, can be downloaded from your tablet or phone through App Store or Google Playstore.
The most up-to-date version of the program has been installed.
Verify if your devices' time and date are correct.
Note: Only people who access your messages will be able to view the files you send through Discord. Before opening messages with photos sent through Discord, be sure you want to send them to people you know and trust.
Now that you have some of the basic ideas of uploading and storing files with Discord, let's look at a few of the best ways to upload images.
How to Send Pictures on Discord on Desktop
Discord is an instant messaging application for various platforms, including Windows, Mac OS X, Linux, iOS, and Android. So if you're using a desktop, it is possible to send pictures on Discord.
Here are the steps to upload an image or file on Discord:
Step 1: Open Discord

If you're using Windows, look for it in the Start menu. On a Mac, it's in the Applications folder in Finder.

Step 2: Select A Server

The list of a Discord servers is organized in the panel to the left by their symbols or initials. Click the server on which you'd want to send an image.

Step 3: Find the Channel

You may send images from a chat channel to another user in a private message. To start a chat, click one of the following options.

Direct message: To send a direct message, open the chat or select Discord users from the list on the right. Right-click their name and choose "Message".

Text channel: Tap one of the text channel that is listed below, "Text Channels," under the menu to the left. The hashtag (#) is next to text channels.

Step 4: Click the Plus Icon

It's the icon with a circle containing a plus sign or the text box. It's to the left of the message bar at the lower right corner. This activates a file browser that may be used to browse files on the computer.

Step 5: Navigate to the File You Want to Upload

You'll almost certainly need to click folders where the picture you want to upload is located. Use the file browser to find and open the folder that contains the photos you wish to upload then click open.

Step 6: Select an Image File and Click Open

When you click the picture or file, the file highlights. In the lower-right corner, you'll find a drop-down menu. Select "Open" to upload the file.

Step 7: Type a Comment

If you want to leave a comment on the uploaded image or send files, just "Add a comment." You may add a comment or say anything about the photo or caption it.

Step 8: Press Enter To Upload The Photo

When you have done editing the image and adding comments or captions, click Enter to post images. If you're uploading multiple photos, only one will be uploaded at a time. When all of your photos are uploaded, it's possible to view them by clicking the photo under "Profile" in the left sidebar.

The image will be uploaded to Discord and shown in the chat channel or direct message.
How to Send Images on Discord on Mobile
Sending photos or files on Discord mobile is very easy. To do so, open the Discord app, then click the channel or server you wish to send files or photos to.
STEP 1

Click on the name of a specific user if you want to send a private message.

STEP 2

You will see two icons, a camera, and an image icon at the message list' button.

STEP 3

You can send or take pictures on the Discord app directly by tapping on the phone's camera.

STEP 4

When you tap the image icon, several icons will appear and a keyboard wherein you can send a message.

The image icon can enable you to upload photos from your phone's gallery. The document or file icon can enable you to upload videos, apk files, text documents, audio files, and an image file from your phone. And the camera icon will open your phone's camera.

STEP 5

You can upload or select multiple files at a time; the ones you choose will have a checkmark.

STEP 6

Then, click upload or the arrow icon on the right to upload files on Discord.