With its massive following, it's good to know that you can now put a Discord link on your TikTok. And doing that is easy. Read on to find out how you can add a clickable link on your TikTok that directly goes to a server you own.
How to Link TikTok and Discord
Linking a Discord server to TikTok has been made easier when the social media site allowed its users to include a clickable URL in their TikTok profile.
Before, TikTok users can only add their Instagram and YouTube accounts, but now TikTok allows people to add Discord links on their page. And it's not only Discord; you can also put other links in this area, such as your website or accounts on other platforms.
However, website links are only available to users who have a business account. To share links on your TikTok profile, you must first have a business account. If you don't have a business account yet, you can easily switch it in the settings.
A Quick Guide to TikTok Business Accounts
To switch to a business account, follow these steps:
Step 1

Open the TikTok app, and tap the person icon to access your profile page.

Step 2

Tap the three-line icon on the top right corner of the screen.

Step 3

In the Settings and Privacy page, select Manage Account.

Step 4

Under Account Control, tap Switch to Business Account.

Step 5

Follow on-screen instructions until you see this pop-up notification which means you have successfully switched to a business account.
Linking Your Discord Server to TikTok
Now that you have switched to a business account, it's time to add your Discord server.
Although you can get your server link both from the desktop and app version of Discord, it's best to use the app for this one. The reason is that, as of the moment, you can easily add a link to your TikTok bio on your mobile device, whereas it's not yet possible to do so using the desktop version.
Follow these steps to link your server to TikTok:
Step 1

Open the Discord app on your mobile device.

Step 2

Tap the three vertical lines icon on the top left corner to see the list of channels.

Step 3

Tap the three dots on the top and beside the name of your server.

Step 4

A pop-up menu will appear. Tap the Invite icon.

Step 5

Before copying the link, make sure it is set to Never Expire, so your followers can access it anytime they want. You can also do this by tapping the cogwheel icon button and setting the time to No Limit.

Step 6

Tap the link to copy to your clipboard.

Step 7

Go to the TikTok app and head over to your profile page.

Step 8

Tap Edit Profile.

Step 9

Tap "Website" to add your Discord link.

Note: If you can't find this option, you probably have a personal account. Refer to the guide above to switch to a business account.

Step 10

Paste your link and save changes.
And you're done! You now have linked your Discord server to TikTok.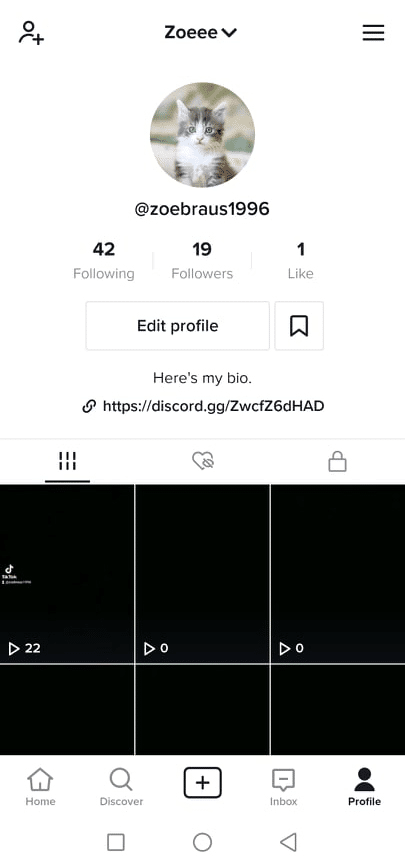 Benefits of Linking Discord and TikTok
Adding the link to your Discord server has a lot of pros. Here are some:
It will drive traffic to your Discord server and help your community grow.
It will help you build relationships with your fans and followers.
You will be having a community where people who like your content can gather, discuss, and give feedback.
More opportunities for brands and fans can connect with you other than on TikTok.
and more.
Frequently Asked Questions
Why Can't You Add a Link to TikTok Bio?
You can put a link on your TikTok bio but you won't be able to click it. The link will just become a simple text and can't be copied on mobile. People will have a hard time accessing your link if you place it on your TikTok bio, so put it on the Website section of the Edit Profile to make it work.
Should You Link TikTok and Discord?
Absolutely! If you have no website of your own, a Discord link is the probably best alternative to put in your TikTok profile instead.
Tip: If you're not sure what to put in your website link space (you can only put a single link after all), you can use bio link tools such as Linktree. Using tools like this will help you put a bunch of other links on a page that acts as a launchpad to your other sites, such as your Discord server.