Why trust our advice?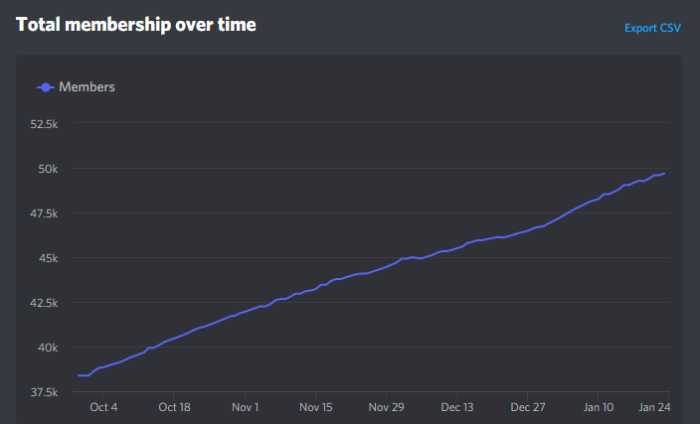 We grew a Discord to a 50,000 member count in just over a year. Through trial end error, we found the best ways to attract members while keeping bot attacks and spam to a minimum. While there are multiple tactics you can use, we found these to be the best methods for growing a thriving Discord server.
Server Growth Tips for Discord
1. Make Your Discord Server About a Specific Topic

One of the best ways to grow a discord server is by making it about a specific topic. This will help you attract people who are interested in the theme while also making it easier for them to find your server. You can also create channels specifically for that topic, making it easier for people to find the information they are looking for and other like-minded people.

For example, if you are trying to grow a discord server centered around Pokemon Sword and Sheild, you could create a "pokemon trading" or "pokemon battle arena" channel. This will show instant value and make retaining users a lot easier. The best part of this model is that once people make new friends within your server they will keep it busy by chatting amongst themselves, taking the pressure off you and your mods to always keep the server looking alive.

Going a step further, we also recommend adding an introduction message on your server's welcome screen that explains what the server is about. This will give potential members an overview of what they can expect without having to dig in.

2. Invite friends, so the server looks busy

interests, invite them to join your server. You can also promote your server on social media or websites where people interested in the theme of your Discord server are likely to congregate. For example, if your Discord server is primarily about discussing anime or a specific game, it is best to promote on Facebook or Reddit groups about said topic.

Having a core discord community established at the start of a new server will give the impression that your server is popular and busy, which can entice more people to join. The best part about this tactic is that it's free and easy. All you need to do is send friends an invite link, and they will be able to join. This also has a flow-on effect where friends will often invite other people you don't know directly.

"The core community chatting, sharing videos and memes is one of the most important factors in making your Discord server look appealing to new people."

While there are several methods for inviting friends, If you don't already have people added, you can use Discord's built-in friend finder tool. This tool allows you to search for friends who are already on Discord and add them with a single click. It does this by syncing your contacts from other social media platforms such as Facebook or Twitter and importing them into Discord. This will allow you to quickly grow your server with less effort if you haven't been on the platform long yourself.

3. Keep Your Server active with daily conversation

One of the best ways to keep your discord server active is by making and contributing to daily conversations. This means that you and your first set of members should be talking publicly regularly. This is easy to achieve by moving some conversations that would usually be over private messages to a specific channel of the discord or the "just chatting" category if you have one.

Discussions can be anything from the latest episode of your favorite anime to sharing gaming clips or just general banter.

The more people are talking, the busier and more alive your Discord server will look. This will entice new members to join while also keeping current ones engaged. It's important to note that this doesn't mean you must constantly talk to yourself. It is best when other members help out by starting conversations themselves.

4. Host weekly events

Another great way to grow your Discord server is by hosting weekly events. This can be anything from a game night, movie night, or just a simple trivia quiz. The best part about this idea is that it gets everyone involved and encourages people to come back weekly.

It's also important to note that these events don't have to be hosted on your server. You could team up with other servers who share the same interests as you and host joint events. This will help grow both of your communities while also providing more content for members to participate in.

"Events are a great way to get everyone involved and encourage people to come back week after week."

When hosting an event, make sure you promote it well in advance. This can be done by creating a post in the #announcements or #events channel and using Discord's built-in scheduling tool. The scheduling tool will allow you to create an event that will show up in people's calendars, reminding them when the event is coming up.

Make sure you also provide all of the relevant information, such as the date, time, and how people can participate. You can even go one step further and make custom graphics for your event for use on socials and for sharing on other Discord servers (if approved to do so).

5. Create channels to share daily things

Another way to keep your Discord server active is by creating channels specifically for sharing daily things. This could be anything from a pet doing something cute to a delicious meal you're having for dinner.

This method is effective because it allows your server members to quickly share content and keep everyone engaged and on the lookout for new content.

To participate in this type of activity, all you need is some basic rules about how the channel should be used. For example, if you have a cooking channel, people could share pictures and recipes of their latest culinary creations. If you have a gaming channel, members could share clips. It helps keep the chat active by giving people something new to talk about daily.

6. Host contests and giveaways

One of the best ways to attract new people to your Discord server is by hosting contests and giveaways.

Examples of Giveaways

Steam games
Discord Nitro Subscription
Gift cards
Digital content such as in-game items or skins
Physical content such as gaming consoles, controllers, or games

Hosting these events is a great way to bring attention to your server while also giving members something fun to do. It's also good for showing off how active your community is. When hosting contests or giveaways, make sure that you have all the relevant information handy such as how people can enter, what they can win, and when the event will take place.

The best part about contests and giveaways is that they're easy to set up. You just need to create a post in the #contests or #giveaways channel with all of the relevant information. This could include the prize(s), how people can enter, and chosen winner.

Make sure you spread the word about your contest or giveaway on social media and other Discord servers. The more people who know about it, the better your chances of using this tactic to build a larger following.

WARNING!: While giveaways can be a great way to get attention and attract new members, if your server is only known for free gifts, it could hurt your long-term growth. Discord giveaways should not be a primary focus, only a little bonus.

7. Advertise on Reddit communities

Another great way to grow your Discord server is by advertising it on Reddit communities. This can be done by posting a link to your server in relevant subreddits or even creating a post about your community. It's worth noting that some Reddit communities hate this form of advertising, and it could very well result in downvotes or even a ban. For this reason, you can always try going through the mod team to get your promotion approved first. This is also a far more effective strategy if you have been part of the community and are very active before posting your Discord link.

It is of vital importance that you don't spam your discord link on other people's posts or be too pushy in your approach. The aim is to find people who are a good fit with similar interests that will improve your community, not to grow at all costs.

8. Advertise On Twitter

One of the lesser-known methods to grow your Discord server is by advertising it on Twitter. This can be done by tweeting a link to your server or even creating a post about it.

Like Reddit, some Twitter communities will not appreciate this form of advertising, and it could very well result in a suspension or ban from the platform. For this reason, you should only tweet your Discord link from your account, not by leaving it as a comment on other threads.

Be very careful not to spam people with your link. Also, this only works if you are actively engaged in the Twitter community before promoting your Discord server. Twitter can be a great way to reach new members if used correctly, although building a following from nothing is very time-consuming. We really only recommend this strategy if you have a few hundred followers already.

9. Appoint discord moderators

A clean and organized Discord server is vital if you want to keep the members who join. If you try to manage it all yourself, it ends up a time-consuming job, and it's also challenging to address issues at all hours. The easiest way to set up your server for growth is by appointing discord moderators. Discord moderators are responsible for managing the chat, keeping things tidy, and ensuring everyone follows the rules.

There are a few things to consider when appointing discord moderators:

Make sure you choose people who are trustworthy and will follow the rules.
Moderators should be active members of your community who know how to handle difficult situations.
Give them appropriate powers so they can enforce the rules correctly.
Let them know their duties and how they can contact you if they need help.

10. Use discord bots to reduce spam

One of the biggest problems with Discord servers is spam. This can be anything from messages, voice chat, or even invites to other servers. Not only is this annoying for members, but it can also clog up the server and make it difficult to find important information.

This is where discord bots come in handy. There are several bots that you can use to help reduce spam and manage roles, and they are easy to add to discord.

Some of the most popular bots include:

MEE6: This is a powerful bot that can be used to manage roles, permissions, and even messages. It also has a built-in moderation system to help keep your server clean.
Dyno: This is a bot that is designed to help reduce spam and manage roles. It also has a number of features to make moderating your server easier, including banning users, deleting messages, and more.
Probot: Welcome messages, auto-response, and anti-raid protection are included with ProBot. It can function as a Discord welcome bot by sending each member a personalized welcome message that includes their avatar and name. You can also set up specific phrases or messages for automatic replies.

11. Join multiple discord server lists

There are a few discord server listings that you can join to get your server in front of more people. This will help you grow your server much faster than just relying on word-of-mouth. Some popular discord server lists include:

discordservers.com
serverlist.gg
discordalley.com

The key to getting your server on these lists is making sure your server has the right information listed. This includes a catchy description, the correct category, and up-to-date server info. Most of these websites have a tags system, so look through some of the most popular tags and see which best suits your server.