While both Twitch and Discord can help you make new friends, they offer mostly different functions and features. Find out why these have many users worldwide, and what are their few similarities and major differences in this article.
Overview of the Discord App
Discord is by far the most popular app that offers VoIP (Voice-over-Internet Protocol) communication, instant and direct messaging, and organized sharing of information to both private and public communities. It is an app designed for like-minded people, who share the same passion and interests, that come together on the same platform.
Discord boasts of its discrete and organized modules collectively called servers, which are subdivided into different channels. Millions of users have been using Discord as one of the great internet sources for various content such as gaming, sports, fashion, entertainment, etc.
Brief History
Discord launched as 'Discord App' which was initially released in May 2015. By then, the company was named Hammer & Chisel, Inc. by founder Jason Citron. Discord came to existence after Citron sold his OpenFeint platform in 2011 at US$104 million to GREE which he used to create the H&C game development studio in 2012.
When their first-ever game product, Fates Forever, didn't succeed when it was released in 2014, Hammer & Chisel opted to change course and eventually developed DiscordApp.
DiscordApp became widely known for its unique offer of servers-and-channels functions.
Basic Functions
On April 2022, Discord has become the number one and top-grossing among all communication-type mobile apps in the Google PlayStore with more than 100 million downloads worldwide. How did it manage to do that?
Basically, Discord users have found this app to be very accommodating in terms of public communities and handling groups of people with the same interests in mind; and the basic user interface is easy to navigate around servers.
One great function of Discord is the voice channels feature. In Discord, you can directly join any active voice channel on your servers without having to call people one by one. With this feature, Discord makes telecommunication easier and more fun.
Another creative function this app offers is Discord Nitro (formerly Discord Nitro Classic). This feature gives users a Server Boost which unlocks higher audio channels and video resolutions, animated avatars, more emojis slots, and other additional perks.
Pros and Cons of Discord
There is no such thing as a perfect app. Each application has its high ends and down-lows. Here are some of the pros and cons of Discord:
Pros
Discord offers free VoIP channels, instant messaging, and direct messaging, and provides chat support to its users.
Discord server members enjoy a better and wider network of information-sharing through multiple channels within the server. They can categorize information and data by creating new channels which allow them to be organized and thorough.
Discord also uses SSL and voice encryption technology that protects its users. There is also a voice chat feature that is not available on many social media platforms, like Twitch.
With Discord, you can create multiple private channels that only server members or invited users can have access to.
Cons
One of the down-lows of Discord is that users can't perform any live stream activity on the app. This VoIP communication app does not support free live video streaming online.
For gamers who love to upload real-time gaming content, Discord may not be the right app for you.
Although Discord offers a streaming add-on called Discord StreamKit, users will still have to pay for it through Server Boosts.
Overview of the Twitch App
Twitch is a popular streaming platform among gamers worldwide. In fact, it is one of the most competitive sites opposite Microsoft and YouTube that caters to most gamers today. It boasts of a live streaming service that allows users to stream in real-time. Twitch is very popular among many gaming companies and eSports organizations. This platform is also used to promote and launch new games in the market.
Brief History
Twitch started as a spin-off gaming content of JustinTV. The project was launched in 2007 and because it became very popular, the company decided to invest in the spin-off and launched it publicly in 2011 as TwitchTV. With its fast-growing community, millions of people started using Twitch. And by the end of 2013, they had more than 45 million unique visitors per month. This led to the attraction of social media giant Amazon, Inc.
In 2014, Amazon acquired TwitchTV for US$970 million. Now, the app is managed by Twitch Interactive, a subsidiary of Amazon, Inc.
Twitch has become one of the most popularly used applications for live gaming streams trusted by multiple game companies worldwide.
Basic Functions
Twitch makes streaming easy and free.
Twitch users can avail the free streaming services even without logging in to the system.
For those who love cooler stickers, advanced features, and access to more perks at the game store, users may opt to enroll in a premium subscription.
Pros and Cons of Twitch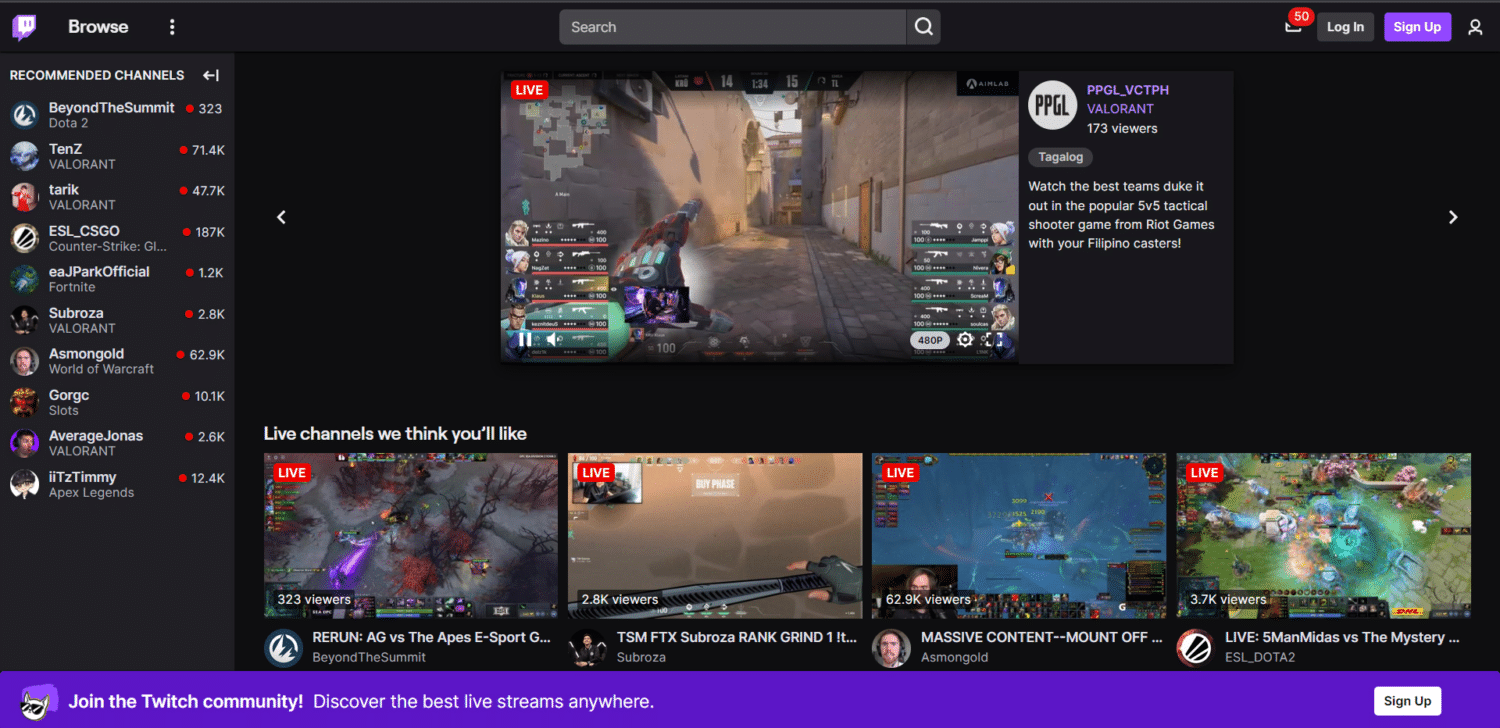 Twitch makes live streaming free, easy, and on the go. Along with its growth over the years, Twitch has finally launched its beta version of the Twitch desktop app that creates better communication and streaming experience for all of its users.
Pros
Twitch has an excellent user interface that is very user-friendly for all. When you log into the application, you can find all functions in the same interface. You don't have to go around too many landing pages because most functions are already found on the home page.
For Twitch streamers, it's very easy and convenient to add affiliate links in the bio in order to redirect other users to their other social media pages.
Both Twitch streamers and viewers alike from all over the world, who love playing games and streaming gameplays online, can enjoy connecting with each other in the live chat panel located on the right side of the video stream.
One of the best features of Twitch is how it gives streamers the opportunity of making money. Twitch streamers who have enough or high concurrent viewer counts may earn through advertisements, tips, donations, cheers from fans, commissions, and subscriptions.
Cons
Unlike Discord, Twitch does not use data and voice encryption technology. Because Twitch is a public streaming platform, it does not feature data privacy.
You cannot create a private channel on Twitch. You can either join the real-time group chat or opt to direct message your friend.
Twitch does not offer video calls either. The site seems to have a one-way video streaming function which allows the streamer to broadcast but not see the audience from the other end.
How Do Twitch and Discord Compare to Each Other?
Discord vs Twitch. Although dissimilar in major functions, Twitch and Discord also have commonalities, both being social media platforms with millions of users worldwide.
Similar Features
Each of them can be considered a messaging app because both offer direct and/or instant messaging modules that connect people worldwide.
Both can cater to gaming content and are user-friendly in terms of telecommunication.
Both can also give people opportunities of meeting new friends and build communities.
Difference between Discord and Twitch
There is only one major difference between Twitch and Discord: monetization.
Twitch streamers earn money through the site when they generate enough traffic to qualify their channels to monetize. Discord, on the other hand, currently does not have this feature.
Discord vs Twitch – Which is Better?
Many users are still debating over which of these two applications is better. While both have similar functions, they also have distinctive features offered in the market. In terms of being a messaging app, the main difference between the two may be the voice encryption technology featured by Discord, and the live streaming module offered by Twitch.
Voice and Video Calls
When it comes to voice and video calls, Discord is the better app.
Live Stream Video Games
When it comes to live streams and real-time gaming streams, Twitch is the better app.