Overview of the Discord App
Discord was developed primarily by Jason Citron way back but was publicly released in 2015. This app was conceptualized after Citron's OpenFeint and Stanislav Vishnevsky's Guildwork–both of which are social gaming platforms. With Discord, each managed community is subdivided into a discrete collection of different channels called 'servers'.
A Discord server comprises different channel types in order to create an organized environment for each community. It was originally conceptualized for gaming communities because Discord was created for gamers who share the same interests and love to meet new people around the gaming world.
When its user base peaked at millions of users all around the world, Discord began to expand its horizon and started to open its doors for businesses and user-friend groups. With its easy-to-navigate user interface, it wasn't long before Discord overtook other established community-based communication tools such as Zoom, Telegram, and other known VoIP apps.
There are two main Discord channel types:
Text Channel
Discord offers a real-time text chat module that allows users to interact with mutual friends around servers through text channels. Each server can create multiple text channels to which they can organize certain topics and niches that correlate with each other.
Voice Channel
Discord also offers a voice chat module that allows users to call mutual friends, inside the servers, for free. A sound channel might be similar to that of a voice channel given that both of them use audio-based codec for better and faster data transmission.
Pros and Cons of Discord
Pros
Freemium – Discord is free at most. You don't have to forcefully sign up for subscriptions in order to use basic and key features of the app. A simple sign up will let you step into a world of wonder and start making new friends or take a step into furthering the scope of your business and other interests.
Discord Nitro – For any Discord Nitro subscriber, unlocking more features and bigger limits enables them to utilize the app even more. For example, file size limit ups from 8MB to 50MB for each file upload; users will be able to unlock emote slots with more emotes and stickers available to use; and users can also get access to higher server limits and free server boosters upon availing the Discord Nitro subscription.
Cons
Not everything is free on Discord. Although most of its features are free, they are limited. Here are some of the downsides of Discord:
File Size limit – Discord only allows up to 8MB file size upload of any document or media type. Considering this low megabyte size, users will also have limited file sharing.
End to end Encryption – Discord does not do very well on encryption. As of now, they can only secure one end of data transmission (that is, only server admins have the secured end of data encryption and not vice versa).
Discord Nitro (server subscriptions) – This upgraded subscription offered by Discord is both a pro and a con to some extent. Compared to Guilded, Discord's Nitro subscription falls short on some of its extra features offered because some of its premium perks are still offered free on the other app.
No comparable server info unlike Guilded.
Overview of the Guilded App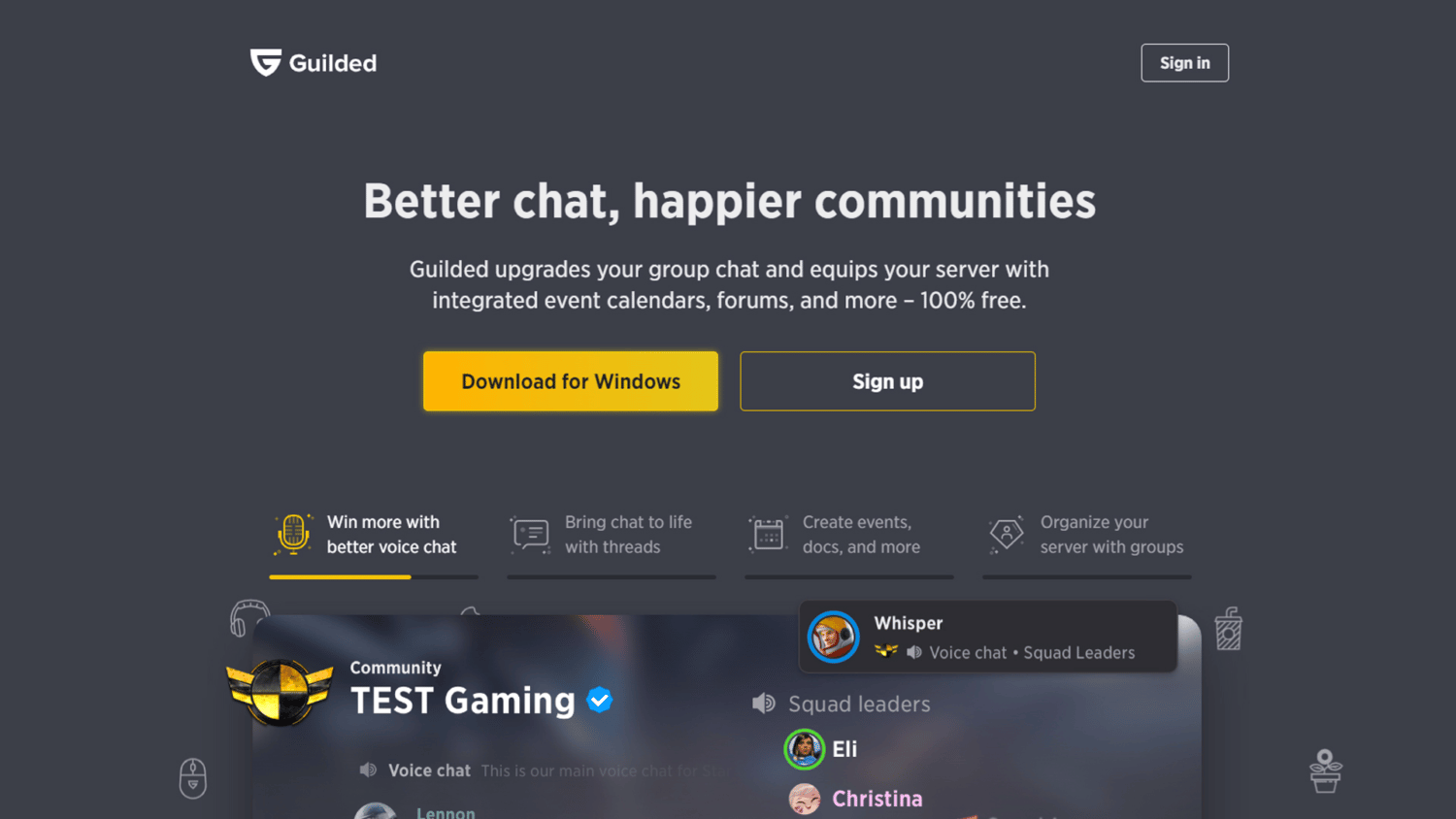 Guilded is also a VoIP and digital distribution platform developed in 2017 that was acquired by the Roblox Corporation in 2021. This instant messaging-voice call app was developed primarily for gamers and gaming communities that are purely focused on either competitive gaming or eSports. With Guilded, servers are preferably called 'guilds'.
A Guilded server comprises a cool user interface, organized and neat server structure, and with multiple channel types to help users get information the easiest possible way. One exceptional feature Guilded boasts of is the Calendar found in the middle of the GUI.
The Guilded Calendar is used to notify members for any upcoming events, be it: an incoming Twitch live stream from your favorite streamer, a YouTube upload schedule, or any event you wish to be a part of or attend to.
As mentioned earlier, there are lots of different channel types inside the entire Guilded server. Here's a quick overview of Guilded's channel types with other exceptional features worth mentioning:
Text and Voice channels
Guilded's major channels are text chat, voice, and video chat. This is the foundation of a good VoIP app that caters to a large group of people in the same community of interests. Instant messaging and video-conferencing are the most fundamental functions that Guilded users have the benefit of utilizing.
Announcement channels
Announcement channels focus on notifications on upcoming events that a Guilded user wishes to be a part of. In this channel, the Guilded Calendar is the superstar. It helps any user to have a better info notification for hot and trending community gaming events that are being held inside the guild or in other third-party sites.
Forum channel
Guilded also has its own discussion forum. It allows users to discuss events or comment on topics inside the forum that best suits their current interests. The threaded message conversation feature groups each topic in one thread so as to keep the server clean.
Streaming channels
One specific feature that Guilded has the advantage over Discord is the streaming channels made specifically for gamers inside streaming communities or guilds. The ability to toggle screen sharing and livestreaming in real-time is something they have implemented to truly outclass Discord. This is why Guilded is very popular among gaming communities which made them an outstanding Discord competitor.
Media-only channel
The media-only channel is a perfect place for server members to post memes, MMO characters, tenor GIFs, or any other media file types they want to share. Users can also comment on each picture or media posted–all the while creating a different thread for each post. This distinctive feature is an advantage over Discord.
Pros and Cons of Guilded
Pros
Guilded servers – With Guilded, new users have the complete freedom to create their own server or guild anytime upon sign up. They can easily manage server groups because the app is user-friendly and easy to manipulate.
XP Bot and quick start creating bots – Upon sign up, Guilded users are gifted with an XP bot that can help them all throughout their Guilded experience. Not only an XP bot, but also quick-start creating bots, that can be easily created with no programming knowledge whatsoever required upon generation.
Server Admins can set multiple tiers – this feature also makes Guilded fun and challenging. For example, server members may earn custom rewards or badges inside the guild (or server) upon completing tasks or requisites to be able to level up from one tier to another and unlock more perks within their server.
Guilded is absolutely free – it's free!
Cons
Lower number of User base – compared to its major competitor (Discord), Guilded has a lower number of users worldwide. Although the figure is currently in tens of millions as of 2021, it's still a long way from more than 300 million total registered Discord users (as of 2021).
Fewer third-party apps linked with – since Guilded has only recently launched (2017-present, approximately 5 years), it's still building its partnership with other social media apps.
How Do Guilded and Discord Compare to Each Other?
Server Overview page
In terms of server overview, both Discord and Guilded have easy to navigate UIs. However, Discord falls short in the matters of server subscriptions since Guilded is absolutely free. Additionally, Guilded has more channels to offer, and gives more access to 'premium features' for free.
Text and Voice channel
Although both have low latency (on both audio and video), Guilded surpasses Discord in terms of being the better voice chat app. Discord only offers 96kbps audio bitrates, while Guilded offers up to 256kbps. This gap can create a big difference when streaming is incorporated because the higher the bitrate, the lower the latency becomes.
User interface
GUI-wise, both have easy to navigate user interfaces. However, Guilded has a better organization and presentation of panes from left to right (having sub-servers on the left, calendar in the middle, and members on the right side, respectively).
Discord server
A new Discord server presents you with no options to earn money with your content. Simply put, you can't monetize with Discord unless you become a partner. Generating income with Discord may be challenging especially for newly created servers that don't have enough members or does not generate enough traffic to attract Discord into offering to partner up.
Guilded server
A new Guilded server presents you with an opportunity to monetize right then and there. Monetization with Guilded is made possible through multiple tiers of subscriptions that server admins may opt to create for their server members. Additionally, a server admin can also have a custom rewards system for each tier in order to keep the interests of the members high and active. Guilded servers are also divided into sub-servers for better organization and assignments. Guild rules are also implemented to keep the server in order.
With Guilded, you have cooler community-building features, cleaner server appearance, and so many other features (mentioned above) that are not offered in a Discord server.
Guilded vs Discord – Which is Better?
Both Discord and Guilded have their own distinctive advantages–the one over the other. One app is better than the other in terms of a classier user interface; more free and better features; bigger and wider audience range; and especially when it comes to streaming groups amongst gamers and fans who share the same interests that love to have a better organization and communication inside their formed communities.
Guilded simply blows Discord in terms of monetization. The opportunity to generate income without hitting a set quota of subscribers, or limited number of views (like YouTube), or even partnering up with them, is something that Guilded has the greatest advantage of compared to other community-based apps like Discord and YouTube. So, when it comes to monetization and generating income even for new users, Guilded is the better app.
For gamers who love streaming with very low latency, high file upload sizes, and easy to notice upcoming events to attend to, Guilded is the better app.
However, as of now, there are more Discord users worldwide compared to that of Guilded users. So, when it comes to reaching out to a bigger community and a wider range of audience, Discord is the better app.
Additionally, it is also imperative that users are able to tap into a lot of third-party sites known as partners or connections, to be able to easily jump from one app into another or link multiple income-generating social media accounts, especially when they are trying to monetize content. In this regard, with matters concerning a higher number of partners, Discord is the better app.