So when it comes to Discord, one of the most popular social apps on the web right now, showing off a cool new website in a text channel seems like it would be the best place to do so.
And it is.
However, can you personalize that post by putting it into hyperlink text?
In this article, we will go over what a hyperlinked message is, the restrictions Discord has placed on hyperlinks, as well as how to hyperlink in discord with some third-party apps.
What is a Hyperlink message?
A hyperlink is essentially just a URL link that has been formatted into the different text than the original URL.
For example, "this" text link will take you to YouTube when clicked. This is a hyperlink.
Using this function is typically done by using some format rules or functions that an app or text editor has predefined.
Google Docs has a hyperlink button on the format bar that allows you to insert a hyperlink into your document.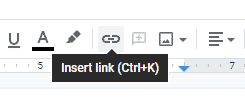 Can I Hyperlink Text From My Discord Account?
So the question is, can I post a hyperlink in Discord?
Sadly, as a normal user, the answer is no. Not directly at least.
However, you can post direct links to sites, GIFs, or videos in their original state.
Discord, in most cases, will create a preview or embed of normal links automatically.

Discord does not allow someone to create a hyperlink for security reasons. Allowing a personal Discord account to hide a link behind text effectively may result in some nefarious users tricking others with suspicious links.
So, for the time being, you will have to post your long messy links the old-fashioned way.
There are, however, some workarounds that can help you with posting custom links in your favorite Discord channels.
How to Create Discord Hyperlinks With Bot Embeds
Discord has several bots that can create posts with hyperlinks in them. One of the easiest bots to use is the Carl bot.
To get started use Carl bot to help you post hyperlink messages through an embed:
step 1

Navigate to the Carl bot website and log in with your Discord account.

step 2

Choose the server name where you want to use Carl bot.

step 3

Click Continue then Authorize Carlbot to allow Carl bot permission to post.

step 4

Click Skip to move directly to the Carl Dashboard (Or first look at the other features Carl offers by selecting Get Started)

step 5

In the Dashboard under Utility select Embeds from the left hand menu.

step 6

In the Description part follow this format to create a hyperlink message within the embed

message text [hyperlink text](URL link)

Your message should look something like this.

step 7

Next, under Destination, select the channel you want to post to and click Post. Your message will appear in the channel, posted by Carl bot.

step 8

The clickable link created by Carl will bring up a pop up in Discord if you click it.
There you have it, a simple and easy way to create a hyperlink in discord chat that will redirect people to a site using Carl.
You can customize your bot posts even further, such as choosing a different embed color, title, additional information outside the description section, and many more options from the embeds creator box.
How to Create a Hyperlink Message Using a Webhook URL
While the Discord application doesn't allow embedded text, complete the following:
STEP 1

In Server Settings, click Integrations.

STEP 2

Next, select Create Webhook.

STEP 3

You now have a new Webhook url you can use to automatically show updates from sites that have Webhook URL functionality.
Be mindful that Webhooks will only work with websites that are built to interact with them.
For example, YouTube doesn't have Webhook link capabilities, but GitHub does.